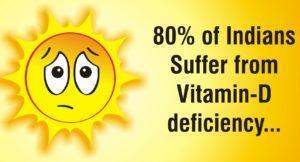 As many of you might be already aware, every 7th of April, we celebrate World Health Day. It was on the same date, in the year 1948 that the World Health Organization was founded with the aim of making people understand their rights to the highest level of healthcare possible. Since then, we can see that the organization's "HEALTH FOR ALL" vision has crossed so many levels during the past several decades.
This year marked the 70thanniversary of the establishment of World Health Organization, which is calling on all the world leaders to oaths they made on Sustainable Development Goals and stressing them to commit themselves to solid steps to improve the health of people living all around the globe. To put it simply, the primary objective of this World Health Day was to ensure that each and every individual, irrespective of where they live, should have access to quality health services without encountering any financial hardships.
Awareness about Vitamin D Deficiency:
We, at PharmaSynth, also took part in this year's World Health campaign in one of the unique ways possible. We decided to campaign for Vitamin D deficiency awareness by distributing free vitamin D sachets to the people in various Indian states like Uttar Pradesh, Madhya Pradesh, Bihar, and Delhi. One might be wondering why we took this subject matter in hand during the World Health Day. Well, we know not any other time to rightly speak about the widespread, serious issue of vitamin D deficiency in the country.
As everyone is aware, Vitamin D is one of the essential vitamins that is synthesized by our body during exposure to sunlight. However, despite being exposed to a lot of sunlight all around the year, it has been found that almost 80% of Indians are suffering from Vitamin D deficiency. This 80% can include you and one or more of your family and friends. The lack of Vitamin D could lead to serious complications like:
Osteoporosis
Rickets
Diabetes
Asthma
BP
Depression
If a pregnant woman is deficient in Vitamin D, she can pass it on to her child as well. Thus, vitamin D deficiency is not a condition that can be ignored.
Keeping this in mind, we decided to raise awareness about vitamin D deficiency during this year's World Health Day and were able to successfully accomplish the same.
Vitamin-D Awareness Campaign:
We started this campaign by cutting a sun-shaped cake. Initially, we planned to freely distribute at least two lac sachets of vitamin D, but finally, we ended up giving more than 2.5 lac sachets towards the end of the campaign. Our campaign was extremely successful and we hope that our awareness efforts turn out to be fruitful to the public at large as well.
Finally, we like to inform you (the readers), that by keeping the significance of Vitamin D in mind, should spend at least 15 to 20 minutes in the open sunlight to get sufficient amount of the mineral that is essential for the proper functioning of your body's ecosystem. Our aim should be to build a society where such Vitamin D deficiencies become obsolete. Let's strive for the Vitamin D deficiency-free community.
Are you up for it?