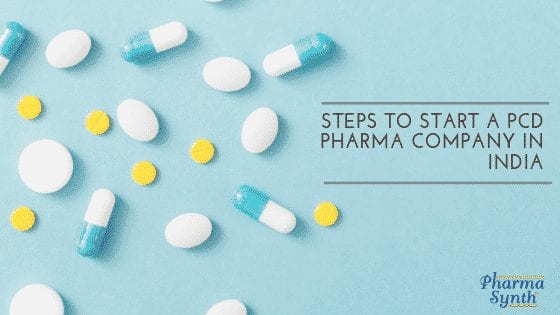 The scope of the Pharma industry in India is immense and this industry is a hub of opportunities for those looking out for new avenues of investments. India's pharmaceutical exports stood at US$ 17.27 billion in FY18 and are expected to grow by 30% to reach US$ 20 billion by the year 2020. Hence investing in the Pharma
Industry in India can be a profitable venture. But taking up any venture calls for the whole set of legal formalities to comply with and investment.
Similarly, starting a PCD Pharma Company in India calls for compliance with a lot of rules and regulations and terms. Let's take a glance at the step by step procedure of setting up a PCD pharma company
Chalk Out your business plan
A business plan is a blueprint that will guide your business from the very initial stage through the establishment and eventually business growth. It is a must for all new ventures. The type of your business plan would depend upon your finance requirement. If you want to seek financial help from banks or financial institutions then go for Traditional business plan. In this plan and if not, then a simple one-page business plan for you would suffice.
Plan your Finances 

No company can be established without finance. So, knowing an estimated cost of establishment and the source to fund your business is very important.
Put together all the expenses that you would need to make in a spreadsheet

(include property buying or leasing cost, licenses and permits, equipment and machines, infrastructure and building premise, market research, inventory, branding, insurance). Also add to it the working capital that you would need for running the business for at least a year (eg marketing and advertising, employee salaries, travel expenses, etc). Adding all these expenses would make you arrive at the figure of the initial investment required.

Next step is to look for

Ways to Fund your business,

it could be through your own equity or debt from banks or financial institutions.
In the case of above 2 partners and below 50 partners, a company can be registered under private limited company or limited liability company and for the single proprietor, one can go for a one-person company.
Decide a good Business Name
The business name plays a vital role in all aspects and is a silent ambassador of your company. Decide Brand names of all products and make sure that these don't resemble any other brand already existing in the market
Documentation, Licensing & Certification
Commencing a Pharmaceuticals Company in India needs licensing and approvals from various different authorities. Most of them are a one-time investment which may last a lifetime, while some may require renewal after a certain time period.
Drug License Number: Drug license number is necessary for every company to start distribution or marketing in India.
Company Registration

:

In case of above 2 partners and below 50 partners, a company can be registered under private limited company or limited liability company and for the single proprietor, one can go for a one-person company.
Food Safety & Standard Authority of India (FSSAI)

: Annual registration required.

Trade Mark

: Trade Mark registration is necessary to safeguard one's intellectual property. Trademark registration can be obtained for a business name, brand name, logo, tagline or caption, etc.

GSTIN:

Pharmaceuticals and medical supplies in India are taxed at four separate rates of Nil, 5%, 12%, and 18%.
Set up your Business location
Including your office and a warehouse for storage. Ensure that all the premises that you select should have adequate space and are established as per Govt. norms.
Products selection and development
One can start a pharmaceutical company by getting manufactured one, two or three products. One doesn't need to go with a big product list. Product selection is an utmost important prospect. Do proper research and prepare a list of all the molecules and combinations, you wish to launch in the market. Understand the market's need and look for currently running & latest molecules those creating good market demand.
Finalize third-party manufacturers
Send quotation for minimum batch size and minimum possible rates to as many third-party manufacturers as possible (as it helps you crack the best deal). Select the best manufacturer who can assure you timely and quality services. Third party or contract manufacturers, manufacture products for you in their factories and save you from the hassle of running a whole manufacturing unit.
Place Your order with the selected Manufacturer
and make sure to send affidavit (specifying that the brand name of the product belongs to you and you will be totally responsible for any brand name or trademark conflict and manufacturer will not responsible for any conflict in future with respect to brand name or trademark). Manufacturers also ask for a scanned copy of your drug license number and GST number.
Make agreements/contract with them
specifying the agreed terms and conditions and the other details about the deal.
Make sure that you hire experienced people. Appoint only registered pharmacists and carefully select the whole sellers or super-distribution companies who would push your product in the market in the best manner.  You would also need MR to visit and promote your products to doctors.
of the products and brand name can really turn around the sale game and make a company earn huge profits.
Design a good logo for your brand and choose it wisely as a logo says a lot about a brand silently.

Packaging and Labelling do more than just protecting and storing a product.

They play a vital role in promoting and developing the image of a brand in a  market.

Prepare visual ads, product cards, and promotional materials.

Design a good website and run ads on the internet.