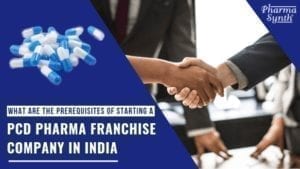 Prerequisites to Start PCD Pharma Franchise Company
Starting a business has become a lot easier in today's scenario but yet it becomes unsustainable when the product doesn't work or just because of some internal issues. Due to this, business people think twice before getting into big business ventures. Franchising although has become a lot more popular these days due to its low-risk factor, in terms of products as well as investment. In these times where the Pharma industry has grown rampantly, with approximately more than $ 1 trillion capital worth of market, it's no wonder that it had to jump on the franchise field as well. To strengthen the marketing strategy and the sales of their products Pharma Companies have now started to provide multiple business opportunities to individuals as well as businesses through Franchise business. Now let us talk about how you can get into this trending business that is creating a lot of hype worldwide.
Concept of PCD Pharma Franchise:
PCD which means Propaganda Cum Distribution is a brand-new concept used specifically by the Pharma companies. Through this marketing concept, individuals and businesses are granted authorization by the pharmaceutical companies in India. These individuals get direct access to the proprietary knowledge, products, trademarks, monopoly rights and are also liable for mutually agreed terms and conditions between the two parties. This concept is a refined version of the Pharma Franchise that used to prevail previously. But although PCD is for small scale business, this is the only difference the previous and new concept.
But what are the prerequisites so that you are on the safer side at all times?
Monopoly Right Vacancy & Expansion:
Because you are starting a franchise business, it is immensely important that you get a vacant place at the desired location where resources you need are accessible and where there is a huge demand for the products. This plays a big role as you also have to forecast the expansion you can make in the near future. And always have your monopoly rights in a written agreement with clear terms and conditions agreed by both parties. This monopoly right will save you from the competition and also escalate your growth in a massive way.  
Qualification & Experience Needed:
To get into PCD Pharma Franchise business in India is not a big deal because you don't require to be a professional pharmacist Although you do need some years of experience in selling and promoting of pharmaceutical drugs. Check to mark the list below and you are good to go with this requirement.
At Least 2-3 years of experience in selling and marketing of pharma products

There is no minimum qualification for this business, although a bachelor's degree would be great for the business.
Investment Needed to start a PCD Franchise business:
In any Business, investment plays a major role in starting and running the business on a regular basis. Even if you are thinking of starting a PCD franchise, it does have an investment requirement. Because PCD is the miniature form of Pharma franchise, you don't have to worry about huge investments. You can start from as low as Rs.10,000 to as high as Rs.3-4 Lakhs according to your affordability. This makes PCD franchise business much affordable for many pharma entrepreneurs and we can say that this is one business model with the least risk factor. Although we advise you to keep at least Rs.1 lac in your bank as an emergency fund so that your business can bear those shocks and as well pay its bills regularly.
Registration Documents Required for PCD Franchise Business:
Documentation and registration is a process you shouldn't miss out while you are dreaming of building your business. Pharma companies and the government is quite strict in this case because millions of lives will be affected by your business. So, you shouldn't play with the health and lives of the people, it might put you in big trouble. So, to become a certified dealer and get approval to do business with the top Pharma companies, you must have the following requirement of registrations and documentation:
Drug License Number.

Pharmacist registered under State Pharmacy Council

GST Registration

Private Limited Company Registration, if required.

PAN Number.

TIN Number (Tax Identification Number)
After knowing everything about PCD pharma franchise business, now you feel like you are ready to start the business right away. But wait, because you are left with one deciding factor which depicts the success of your business. You won't get the success you dreamt of if you stand by the wrong Pharma company. You must be critical while selecting and choosing the company, whose products you want to promote and sell. Here are some tips you can use while you go through different Pharma Companies:
First of all, your research needs to be strong. So, search for the Pharma companies on the internet as well as do physical research on the ground by asking people who are aware of this business or who have done it for a while.

Once you have different companies in your hand, start learning about them. Look at their registrations and documentation as well as. See if they are ISO certified or not and all other things which make a company legit.

Then see what is it that they are offering you, the benefits you will get and also other rewards and perks you get if you start their franchise.

One of the most important things you must look out for is monopoly rights. You should only start a PCD pharma franchise business if the pharma company provides you monopoly rights. This will let you capture the market around your allotted zone and you will not face competition.

See if the company can meet the demand when the order comes because sometimes it's shown just on the catalog and this will delay your delivery.

Watch out for quality issues because it can have a major impact on your business.

See if they have GMP certified units, and are self-owned.

Their drugs list must meet the DCGI drug list.

Quick delivery assistance is a must.

Must have genuine quotation prices.
Conclusion
It is forecasted that the Indian Pharma Industry will reach a mark of US$ 55 Billion by 2020. An industry which didn't get affected a bit with the introduction of GST (Goods & Services Tax) is one hell of an industry. Pharmaceutical drugs never go out of demand and they are here to stay till the next apocalypse. With undying demand and industry which serves straight to the masses, getting into Pharma Business wouldn't be a bad choice for starters. To deal with PCD Pharma franchise company in India and start your own business in our perspective is a great way of earning good money with less of an investment.