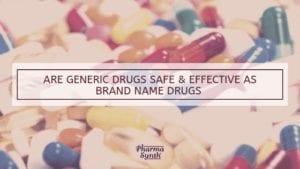 Quality of generic drugs seems to be of major concern for many people nowadays and many of them tend to have a myth in their minds that generic drugs compromise on their quality standards in the production phase and therefore are less effective and safe and also cost less. But there lies a fact behind this myth i.e generic drugs use the same ingredients as their brand name counterparts and hence are prone to have similar pharmacological effects as their brand name counterparts.
Generic Drugs are quality assured
The medication of generic drugs is created to be the same as brand name drugs in terms of dosage form, route of administration, performance characteristics, quality standards, effectiveness, and intended use. To ensure the parameters like safety, quality, and effectiveness, the generic drugs are meant to go through a rigorous analysis process including the review of scientific information about the generic drug's ingredients and performance characteristics. Moreover, India's Central Drugs Standard Control Organization requires that a generic drug production unit meets the same standards as that of the brand name drug manufacturing unit.
Generic Drugs have same Medicinal Effects
Adhering to the rules laid out by CDSCO for the generic drug manufacturing unit, it is not allowed that generic drugs possess the same colors, flavors, or combinations of inactive ingredients as that of brand name drugs. In accordance with the Trademark laws, generic drugs should not look exactly like their brand-name medication, but the active ingredients ought to be the same while manufacturing both the drugs fortifying that both have the same medicinal properties and effects. In fact, according to estimates, 50% of generic drug production is done by the brand name drug companies within their production units.
Generic Drugs prove bioequivalence and also Cost Low
Generic Drugs often cost 30-50% less than brand name drugs because they do not have to spend much on advertising costs and other expenditures that incur when a drug is introduced. Hence, this is the major reason why generic drugs cost less and are not less effective because of their low cost. Generic Drugs have to go through certain test and prove bioequivalence with the patent drug exhibiting that the drug works in the same manner in the human body as a patent drug does. This means that chemically they need to exhibit the same medicinal effects with minute variations.
Generic Drugs are manufactured under the same conditions as brand name drugs
Generic drugs tend to be an uncommon source of healthcare savings amidst the sky-high healthcare services costs. The manufacturers make sure that all the generic Drugs are produced with the same quality standards and under the same conditions just as brand name drugs.
Taking into account the above rundown, we've come up with some informative conclusions that generic drugs possess no distinction as compared to brand name drugs in terms of quality standards, production phase being low in cost. These drugs have the same medicinal properties and are as safe as their brand name counterparts.