Tonozyme
.:: COMPOSITION ::.
Each 5 ml contains :
» Pepsin IP 10 mg,
» Vitamin B6 IP 0.5 mg
» Vitamin B12 IP 2.5 mcg
» Niacinamide IP 22.5 mg
Description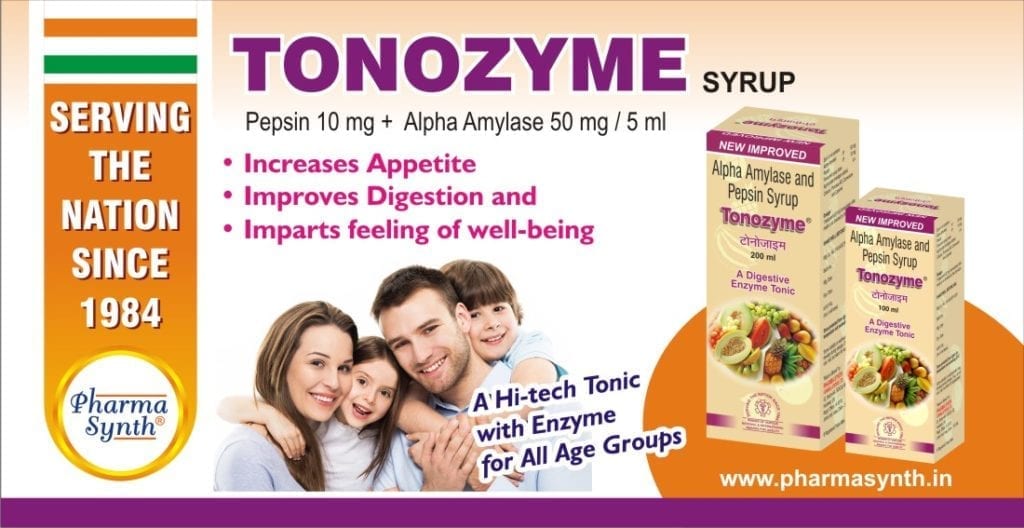 A Hi-tech tonic with enzyme for all age groups.

Composition:
Each 5 ml of Tonozyme contains:
Alpha amylase                                                                                          50 mg
Pepsin IP                                                                                                  10 mg
Vitamin B6 IP                                                                                           0.5 mg
Vitamin B12 IP                                                                                          2.5 mcg
Niacinamide IP                                                                                           22.5 mg

Dosage form:
Syrup

ATC classification:
Digestives

Description: 
Tonozyme syrup is a combination of digestive enzymes with Vitamin B complex. The formula of tonozyme syrup preparation restores appetite in patients suffering from loss of appetite due to medications or any medical conditions. Tonozyme syrup contains alpha amylase and pepsin as digestive enzymes. Alpha amylase enzyme found in saliva and pancreatic secretions aids in digestion of complex carbohydrates consumed via diet. It is a diastase enzyme the breaks down starch present in foods like rice and potato. In patients with pancreatic insufficiency and other digestive problems alpha amylase containing preparations may be prescribed for improving digestion and increasing the appetite. Pepsin present in Tonozyme syrup is an enzyme that promotes digestion of proteins present in the food. It is an enzyme of choice used with alpha amylase for aiding digestion of food. Tonozyme formula also contains Vitamin B6, Vitamin B12 and Niacinamide, and therefore this syrup not only promotes easy access to nutrients in the ingested food but also provides vitamins that act as coenzymes in important metabolic functions of the body.

Pharmacological action:
Alpha amylase and pepsin present in tonozyme respectively break down complex carbohydrates and proteins by breaking bonds that hold basic entities which constitute their structures. The resultant simpler compounds are then converted into energy for the body.
Alpha amylase also known as fungal diastase liberates glucose and maltose from starch present in the consumed food. By this it facilitates higher bioavailability of nutrients especially in individuals with digestive problems having insufficient enzyme production. Supplements providing alpha amylase not only treats and improves digestion but also speeds up the metabolism hence it is beneficial even for patients suffering from loss of appetite. Amylase also aids the activity of lipase, a pancreatic enzyme that digests triglycerides present in fatty foods into simple fatty acids.
Pepsin, a protease enzyme is produced in stomach and it works at low pH. In individuals having digestive problems and enzymes insufficiency, pepsin administered externally aids in breaking down the proteins present in food into peptides and amino acids that can be absorbed easily by the intestines.
When there is inadequacy of digestive enzymes' production in body, individuals often experience intestinal uneasiness, pain and bloating. Digestive enzymes containg preparations like tonozyme relieve symptoms of dyspepsia (indigestion) by rendering support to the normal digestive process in individuals of all age groups including children.
Vitamins present in tonozyme: Vitamin B6, Vitamin B12, Niacinamide.
Vitamin B6 once absorbed, converts to the co-enzymes, pyridoxamine phosphate and pyridoxal phosphate, which functions as a coenzyme in the metabolism of amino acids, glycogen and protein. The recommended daily allowance of Pyridoxine is 1.3mg.
Vitamin B12 also known as Cyanocobalamine is present in the body mainly as methylcobalamine, adenosylcobalamine and hydroxocobalamine. Deficiency of vitamin B12 interferes with haemopoiesis and produces megaloblastic anaemia. Vitamin B12 along with folic acid improves fetal brain development and prevents neural tube defects.
Niacinamide (Vit-B3) is required for the functioning of the coenzymes nicotinamide adenine dinucleotide (NAD) and nicotinamide adenine dinucleotide phosphate (NADP). NAD and NADP are necessary for tissue respiration; glycogenolysis; and lipid, amino acid, protein, and purine metabolism. Its deficiency leads to pellagra. It also has putative activity against osteoarthritis and granuloma annulare

Indications:
Tonozyme is indicated for the following:
Flatulence
Functional dyspepsia
Impaired digestion
Anorexia
Abdominal discomfort
Mal-nutrition
To stimulate appetite
Pancreatic deficiency states
As adjuvant in patients undergoing therapies that affect appetite.
Steatorrhea due to lipid indigestion
Pancreatic enzymatic replacement therapy
Constipation
Post-meal abdominal distension
Fullness after heavy meal
Indigestion due to chronic alcoholism and smoking

Dosage:
As directed by the Physician

Contraindications:
Tonozyme is contraindicated in patients with known hypersensitivity to any of the ingredients present in the tonozyme syrup.
High-dose of niacinamide (doses greater than 500 milligrams/day) is contraindicated in those with liver disease and in those with active peptic ulcer disease.
Tonozyme syrup is contraindicated in chronic diseases of pancreas, acute pancreatitis
Tonozyme syrup is contraindicated in patients having the following conditions:
Crohn's disease
Formation of fibrous tissue in the colon
Gout
Stomach or Intestinal Tract Operation
High amount of uric acid in the blood
Stomach or intestinal blocakge
Patients who have inadequate absorption of nutrients due to short bowel
Intestinal obstruction in fetus
Intestinal obstruction in newborn

Side effects:
If any of the below side effects persist then inform your doctor:
Bloating, constipation, nausea, vomiting, anal itching
In case of severe abdominal pain or cramps immediately consult your doctor.
Discontinue use and seek immediate medical attention if any allergic reaction is observed. Usual symptoms of an allergic reaction are: rash, itching or swelling (especially of the face/tongue/throat), trouble breathing and severe dizziness.

Warnings and Precautions:
General:
Inform your doctor if you are taking any other supplements.
Inform your doctor if you have any medical history of gout, hyperuricemia, kidney disease and intestinal blockage.
Though multivitamin formula with digestive enzymes is thought to be helpful in diabetics, this medication has to be taken only under advice of a doctor.
The use of vitamin B6for the treatment of vitamin B6deficiency, for the prophylaxis of isoniazid-induced peripheral neuropathy, for the treatment of vitamin B6-dependency disorders requires medical supervision.
The use of Niacinamide for any medical indication requires medical supervision.
Niacinamide is to be avoided or to be used with caution in patients with a history of peptic ulcer disease, gastritis, liver disease, gallbladder disease, diabetes and gout.
Drug Interactions:
Inform your doctor if you are on any medication or therapy
Aplha-amylase is known to have interactions with warafarin potassium
Carbamazepine shows drug interactions with niacinamide and vitamin B6
Amiodarone, Cycloserine, Ethionamide, Fosphenytoin, Hydralazine, Isoniazid, Pencillamine, Phenobarbital, Phenytoin, Theophylline, Valproic acid, Alcoholic beverages are known to have drug interactions with Vitamin-B6

Pregnancy and lactation:
Pregnant and lactating mothers should use this medication only when clearly needed and under the advice of the doctor.

References:
Enzymes
http://www.enzymestuff.com/discussionsafety.htm
http://www.naturebiochem.com/downloads/Enzymes_Pharma_applications_Brochure.pdf
Alpha-amylase:
https://www.exercise.com/supplements/alpha-amylase
Vitamin B12
https://pubchem.ncbi.nlm.nih.gov/compound/vitamin_B12#section=Top
Pyridoxine:
https://pubchem.ncbi.nlm.nih.gov/compound/pyridoxine_hydrochloride#section=Top
Nicotinamide:
https://pubchem.ncbi.nlm.nih.gov/compound/936


Disclaimer:
Information provided above is for reference purpose only and has been compiled for use by healthcare practitioners. Please consult your physician to understand how the product affects you, its dosages, side-effects and further information.
Remember, keep this and all other medicines out of the reach of children, never share your medicines with others, and use this medication only for the indications prescribed by your physician.
Every effort has been made to ensure that the information provided by Pharma Synth Formulations Ltd. ('PSFL') is accurate, up-to-date, and complete, but no guarantee is made to that effect. PSFL does not endorse drugs, diagnose patients or recommend therapy and is an informational resource designed to assist licensed healthcare practitioners in caring for their patients and/or to serve consumers viewing this service as a supplement to, and not a substitute for, the expertise, skill, knowledge and judgment of healthcare practitioners. PSFL does not assume any responsibility for any aspect of healthcare administered with the aid of information provided. The information contained herein is not intended to cover all possible uses, directions, precautions, warnings, drug interactions, allergic reactions, or adverse effects. If you have questions about the drugs you are taking, check with your doctor, nurse or pharmacist.