THREOMOX-333 LB CAPSULES
.:: COMPOSITION ::.
Each hard gelatin capsule contains :
» Amoxycillin Trihydrate IP
(eqv. to Amoxycillin 333 mg)
» Lactic Acid Bacillus 60 million spores
Description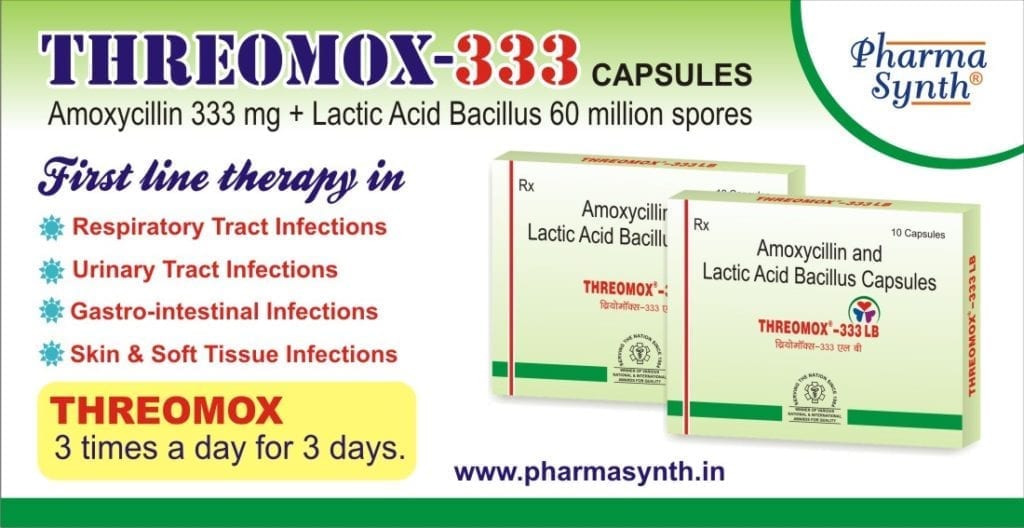 India's No. 1 unique Amoxicillin with gentle probiotic advantages.

Each hard gelatin capsule contains:
Amoxycillin Trihydrate IP (eqv. to Amoxycillin):                             333 mg
Lactic Acid Bacillus:                                                              60 million spores
Capsules
Antibacterials for systemic use
Threomox-333 LB is designed to offer not only anti bacterial activity via the antibiotic, amoxycillin but also provides lactic acid bacillus, a probiotic that restores the normal gut flora. Amoxycillin is broad spectrum semi-synthetic penicillin that has activity against gram positive and gram negative bacterial infections. The dosage strength of Threomox-333 LB provides 1gm of amoxicillin in 3 divided doses. Use of antibiotics often alters healthy gut flora leading to antibiotic resistance and overgrowth of diarrhea causing bacteria (Clostridium difficile). Lactic acid bacillus when introduced into the gastrointestinal gut as a probiotic, not interacts with the host cells and contributes to energy production through glucose synthesis and degradation.
Amoxycillin, a beta-lactam antibiotic, inhibits bacterial cell wall synthesis by binding to one or more penicillin-binding proteins (PBPs). These proteins are located in the bacterial inner cell membrane and serve in cell wall synthesis by cross-linking peptidoglycan chains that give strength and rigidity to the bacterial cell wall. Penicillins inactivate the transpeptidase enzyme involved in cross likning of peptidoglycan chains by acylating the C-terminal domain of enzyme. The result of amoxycillin binding to PBPs is the formation of a defective cell wall that is osmotically unstable.
Threomox-333 LB has been shown to be active against most isolates of the following microorganisms both in-vitro and in clinical infections:
Aerobic Gram-Positive Microorganisms:
Streptococcus pneumonia
Enterococcus faecalis
Staphylococcus spp. (β-lactamase-negative strains only)
Aerobic Gram-Negative Microorganisms:
Haemophilus influenzae (β–lactamase–negative strains)
Escherichia coli (β–lactamase–negative strains)
Neisseria gonorrhoeae (β–lactamase–negative strains)
Proteus mirabilis (β–lactamase–negative strains)
And Helicobacter pyroli.
Microbiological tests have reported greater in-vitro activity of amoxycillin against S. pneumoniae than does ampicillin or penicillin. It has also been found that majority of S.pneumoniae strains with intermediate susceptibility to ampicillin or penicillin are fully susceptible to amoxicillin.

Though lactic acid bacillus (LAB) has a temporary stay in gastrointestinal tract, the changes it produces supports the complex gastrointestinal flora. Short chain fatty acids produced by Lactic acid bacillus have distinct physiological effects: they shape the gut environment, influence the physiology of the colon, used as energy sources by host cells and they also participate in different host-signaling mechanisms. LAB is known to biosynthesize both gamma-amino-butyrate (GABA), that has relaxing effect on gastrointestinal smooth muscles, and beta-phenylethylamine that controls satiety and mood.
Beneficial effects of ingesting live lactic acid bacteria as a probiotic ranges from promotion of a normal microbiota, prevention of infectious disease, improvement of the digestion of lactose in lactose intolerant individuals, post operative pouchitis, irritable bowel syndrome, stabilization of the gut mucosal barrier, maintenance of normal insulin level in blood and also enhances the absorption of fatty acids through intestine. It has been found that lactic acid bacteria have destructive effects on helicobacter pyroli, the bacteria responsible for gastritis.
Pharmacokinetics:
Amoxycillin is well absorbed from the gastrointestinal tract after oral administration. It shows resistance to gastric acid facilitating higher serum levels after oral administration. It is not highly protein-bound, diffusing readily into the body tissues with the exception of the brain and spinal fluid. Diffusion of amoxycillin into brain and spinal fluid is seen when meninges are inflamed.
More than 50% of an orally administered dose of amoxycillin is excreted in the urine within 6 to 8 hours with detectable serum levels up to 8 hours after oral administration. The biological half-life of amoxycillin is 61.3 minutes.
Whereas lactic acid bacillus spores present in Threomox-333 LB passes through the stomach in its spore form and upon reaching the duodenum, germinates and multiplies rapidly. It takes up to 4 hours for germination. After germination it gets metabolically active producing lactic acid. However, Lactic acid bacillus is a temporary resident in intestines. Spores are excreted slowly via the feces for approximately 7 days after discontinuation of administration.
Infections caused by Amoxycillin sensitive microorganisms. (β–lactamase–negative strains)
Lower Respiratory Tract Infections caused by β-lactamase–negative strains of Haemophilus influenzae , Streptococcus spp. (alpha- and beta-haemolytic strains only),  pneumonia and Staphylococcus spp
Ear, nose and throat infections caused by β-lactamase–negative strains of Haemophilus influenzae , Streptococcus spp. (alpha- and beta-haemolytic strains only),  pneumonia and Staphylococcus spp
Skin and soft tissue infections caused by Streptococcus (alpha- and beta-haemolytic strains only), Staphylococcus spp (β-lactamase–negative strains) or E. coli.
Dental infections
Urethral and genital infections caused by gonorrhoeae
Dosage and Administration:
Usual dosage unless otherwise specified by Physician:
For adults weighing 40 kg and over: 1 capsule 3 times a day.
For children weighing 40kg and over and who are above 12yrs of age: 1 capsule 3 times a day.
NOTE: Threomox-333LB capsules are not suitable for children weighing less than 25 kg. Physician's advice is needed for prescribing dosage of Threomox-333 LB to children weighing less than 40 kg.
For Children weighing less than 40 kg and Children aged 6 years or less should preferably be treated with Threomox –LB dry syrup.
Directions of use:
Space the doses of Threomox-333LB evenly during the day, at least 4 hours apart. Do not take 2 doses in 1 hour.
Do not take Threomox-333LB for more than two weeks. Consult your doctor if you still feel unwell.
Threomox-333LB is contraindicated in patients with a known hypersensitivity to beta- lactam antibiotics e.g., Penicillins and Cephalosporins.
Threomox-333LB is contraindicated in patients with a previous history of amoxicillin associated jaundice or liver dysfunction.
Ampicillin-class antibiotics should not be administered to patients with mononucleosis as there are high chances of them developing erythematous skin rash
Very common side effects with Threomox-333LB:
Diarrhoea (in adults)
Flatulence due to presence of probiotics in Threomox-333LB
Common side effects with Threomox-333LB:
Thrush Candidiasis (a yeast infection of the vagina, mouth or skin folds)
Feeling sick (nausea), especially when taking high doses. In such cases it is advisable to take the medication before food.
Vomiting
Diarrhea (in children)
Stop the medication and Contact a doctor immediately if you get any of these symptoms:
Skin rash
Vasculitis, inflammation of blood vessels which is manifested as red or purple raised spots on the skin and also other parts of the body
Fever, muscle and joint pain, fatigue swollen glands in the neck, armpit or groin
Swelling, sometimes of the face or mouth (angioedema), causing difficulty in breathing
Collapse
Convulsions
Jaundice like symptoms
Watery diarrhea usually with blood and mucus, stomach pain and/or fever due to inflammation of large intestine.
Warnings and Precautions:
General:
Patients are to be tested for the following before prescribing Threomox-333 LB:
glandular fever
liver or kidney problems
To maintain efficacy and to prevent the development of drug resistant strains Threomox-333 LB should be used only to treat or prevent infections that are tested in laboratory or strongly suspected to be caused by bacteria.
Mild diarrhea to fatal colitis known as Clostridium difficile associated diarrhea (CDAD) have been reported with use of nearly all antibacterial agents, including amoxicillin. If CDAD is detected or confirmed, ongoing therapy with Threomox-333LB not directed against C. difficile may need to be discontinued. Appropriate fluid and electrolyte management, protein supplementation, antibiotic treatment of C. difficile, and surgical evaluation should be indicated for the patient.
Drug Interactions:
The following drugs are known for having drug interactions with Threomox-333LB capsules:
Probencid
Oral contraceptives
Allopurinol
Pregnancy:
Threomox-333LB should be used during pregnancy only if clearly needed. As with other medications, its use is to be avoided in first trimester.

Lactation:
Threomox-333LB may be administered to the lactating mothers. There may be a risk of sensitization as trace quantities of drug are excreted into the breast milk.

Information to be shared with Patients:
Threomox-333LB should only be used to treat bacterial infections. It does not treat viral infections (e.g., the common cold). Though it is common to feel better early in the course of therapy, skipping of doses or not completing the full course of antibiotic decreases the effectiveness of the treatment and may also lead to development of resistance by bacteria which makes the infection not treatable by Threomox-333LB or other antibacterial drugs in the future.
Patients should contact their physician immediately if they develop watery and bloody stools (with or without stomach cramps and fever) after starting treatment with antibiotics or even as late as two or more months after having taken the last dose of the antibiotic.
https://www.fda.gov/
Amoxycillin
https://pubchem.ncbi.nlm.nih.gov/compound/amoxicillin#section=Pharmacology-and-Biochemistry
Beneficial effects of lactic acid bacteria on human beings:
https://www.researchgate.net/publication/49687659_Beneficial_effects_of_lactic_acid_bacteria_on_human_beings
Lactic acid bacteria contribution to gut microbiota complexity: lights and shadows:
https://www.ncbi.nlm.nih.gov/pmc/articles/PMC3417654/
Intestinal Short Chain Fatty Acids and their Link with Diet and Human Health:
https://www.ncbi.nlm.nih.gov/pmc/articles/PMC4756104/


Disclaimer:
Information provided above is for reference purpose only and has been compiled for use by healthcare practitioners. Please consult your physician to understand how the product affects you, its dosages, side-effects and further information.
Remember, keep this and all other medicines out of the reach of children, never share your medicines with others, and use this medication only for the indications prescribed by your physician.
Every effort has been made to ensure that the information provided by Pharma Synth Formulations Ltd. ('PSFL') is accurate, up-to-date, and complete, but no guarantee is made to that effect. PSFL does not endorse drugs, diagnose patients or recommend therapy and is an informational resource designed to assist licensed healthcare practitioners in caring for their patients and/or to serve consumers viewing this service as a supplement to, and not a substitute for, the expertise, skill, knowledge and judgment of healthcare practitioners. PSFL does not assume any responsibility for any aspect of healthcare administered with the aid of information provided. The information contained herein is not intended to cover all possible uses, directions, precautions, warnings, drug interactions, allergic reactions, or adverse effects. If you have questions about the drugs you are taking, check with your doctor, nurse or pharmacist.