Lycomalt
.:: COMPOSITION ::.
Each 5 ml contains:
» Lycopene Prep. USP 10% Disp. 1000 mcg
» Malt Extract IP 0.5 gm
» Protein Hydrolysate 60% 0.33 gm
» Ferric Ammonium Citrate IP 25 mg
» Calcium Gluconate IP 50 mg
» Zinc Sulphate Monohydrate IP 7 mg
» Copper Sulphate Pentahydrate BP 1 mg
» Lysine Hydrochloride USP 20 mg
» Vitamin D3 IP 400 IU
» Folic Acid IP 0.5 mg
» Vitamin B12 IP 2.5 mcg
» Vitamin B6 IP 0.75 mg
» Niacinamide IP 22.5 mg
In a palatable base
Description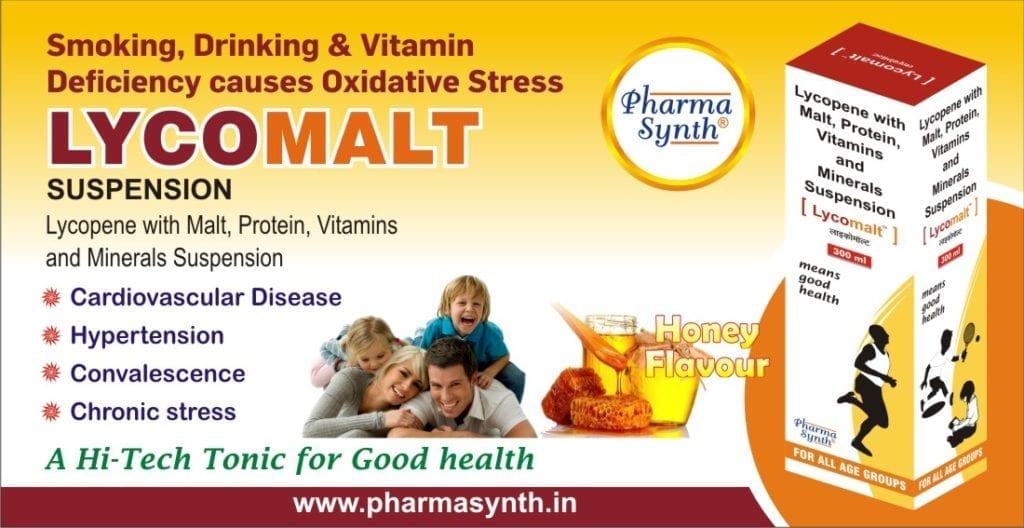 LYCOMALT
Composition:
Each 5 ml of Lycomalt contains:
Anti-oxidant:
Lycopene                                                                               1 mg
Bone health promoting minerals and vitamins
Calcium gluconate                                                                 50 mg
Vitamin D3                                                                             400 IU
Minerals
Copper Sulphate Pentahydrate                                                1 mg
Ferric Ammonium Citrate                                                       25 mg
Zinc Sulphate Monohydrate                                                    7 mg
Vitamins
Folic Acid                                                                                 0.5 mg
Niacinamide/Nicotinamide                                                       22.5 mg
Vitamin B12 (Cynocobalamin)                                                 2.5 mcg
Vitamin B6 HCL                                                                       0.75 mg
Amino acids:
Lysine Hydrochloride                                                           20 mg
Protein and energy providing ingredients:
Malt Extract                                                                           0.5 gm
Milk Protein Hydrolysate                                                      0.33 gm
Dosage form:
Syrup
ATC classification:
General nutrients
Description: 
Lycomalt is a lycopene, protein, multivitamin and minerals containing syrup fortified with malt. This formula provides a comprehensive antioxidants and nutrients supplementation to the all age groups in a family.
Pharmacological action:
Bone health promoting components of Lycomalt: Calcium gluconate and Vitamin D3
Calcium gluconate, is necessary mineral for normal nerve, muscle, and cardiac muscle function. Gluconate salt of calcium helps to maintain the calcium balance in body and prevents bone loss. Calcium administration decreases the elevated rate of bone resorption and formation over a period of time typically seen in postmenopausal women with osteoporosis. It is absorbed in the small intestines with the aid of vitamin D.
Vitamin D3, also called as cholecalciferol, is produced naturally from 7-dehydrocholesterol when skin is exposed to sunlight. However Vitamin D3 requires metabolic activation. It is transported to the liver where it undergoes hydroxylation to form 25-hydroxyvitamin D [25(OH)D]. Then 25(OH)D is transported to kidney and released into the renal tubule cell and hydroxylated to form 1,25-dihydroxyvitamin D, the biologically active form of vitamin D also known as Calcitriol. Calcitriol stimulates intestinal calcium transport and also release of calcium from bone, thereby maintaining plasma calcium levels. Adequate dietary supplementation of Vitamin D3 is required because in deficient states, inadequate absorption of calcium from intestine leads to increased calcium resorption from the bone. This causes rickets in children while osteoporosis and osteomalacia in adults.
Mineral components of Lycomalt: Ferric ammonium citrate, Copper sulphate pentahydrate, Zinc sulphate monohydrate
Ferric ammonium citrate, supplies iron in ferric form to treat iron deficiency anemias. Advantages of ferric iron compared to ferrous iron supplements is that it is less constipating, free from astringent and irritant properties. However, due to its less absorption into body compared to ferrous iron it has to be supplied in higher doses as present in lycomalt for increasing the efficacy.
Copper sulphate pentahydrate, acts as an antioxidant. Traces of copper are essential to the body as cofactor for the activity of cytochrome C oxidase in mitochondria, the enzyme that is central for respiration, and for Cu, Zn-dependent superoxide dismutase, which plays an important role in detoxification of oxygen radicals in the cytosol. Copper deficiency states are rare and are usually related to genetic diseases. However, marginal copper deficiency is not uncommon, particularly in pregnancy.
Zinc sulphate monohydrate present in Lycomalt provides zinc, which is an essential nutrient to the body. Zinc supplementation decreases oxidative stress markers and generation of inflammatory mediators. Zinc has therapeutic efficacy in treating acute infantile diarrhea, common cold and acrodermatitis enteropathica. It also helps in prevention of blindness in patients with age-related macular degeneration. Zinc deficiency leads to delayed puberty and hypogonadal dwarfism in adolescent children.
Vitamins present in Lycomalt: Folic acid, Vitamin-B12, Vitamin B6, Niacinamide/Nicotinamide                                                    
Folic acid also known as Vitamin B9 is an essential nutrient that is required for DNA replication and for enzymatic reactions involved in amino acid synthesis and vitamin metabolism. Deficiencies of folate due to genetic defects, reduced intake, increased metabolism, and/or increased requirements leads to hyperhomocysteinemia, megaloblastic anemia, and mood disorders. It is also required for growth and development of fetus. Its deficiency in pregnant women has been associated with abnormalities in both mothers (anemia, peripheral neuropathy) and fetuses (congenital abnormalities). It has been found that folic acid supplementation around the time of conception reduces the risk of neural tube defects in the offspring.
Vitamin B12 also known as Cyanocobalamine is present in the body mainly as methylcobalamine, adenosylcobalamine and hydroxocobalamine. Deficiency of vitamin B12 interferes with haemopoiesis and produces megaloblastic anaemia. Vitamin B12 along with folic acid improve fetal brain development and prevent neural tube defects.
Vitamin B6 once absorbed, converts to the co-enzymes, pyridoxamine phosphate and pyridoxal phosphate, which functions as a coenzyme in the metabolism of amino acids, glycogen and protein. The recommended daily allowance of Pyridoxine is 1.3mg.
Niacinamide (Vit-B3) is required for the functioning of the coenzymes nicotinamide adenine dinucleotide (NAD) and nicotinamide adenine dinucleotide phosphate (NADP). NAD and NADP are necessary for tissue respiration; glycogenolysis; and lipid, amino acid, protein, and purine metabolism. Its deficiency leads to pellagra. It also has putative activity against osteoarthritis and granuloma annulare
Amino acid component of Lycomalt: Lysine
Lysine is one of nine essential amino acids required for growth and tissue repair. It aids in the production of antibodies, enzymes and hormones. It aids in the absorption of calcium and formation of collagen thereby promoting bone cartilage health. It is effective against herpes simplex viruses by interfering with the viral growth by balancing the nutrients
Anti-oxidant component of Lycomalt: Lycopene
Lycopene is a carotenoid responsible for red color of fruits and vegetables. Its powerful antioxidant property stems from its ability to quench free radicals which are responsible for initiating lipid peroxidation. Lycopene exhibits potential in preventing cardiovascular diseases by inhibiting oxidative modification of LDL and by halting the atherosclerotic progression. It reduces the intimal wall thickness of arteries and risk of infarction, thereby helping in reducing the incidence of stroke and other vascular abnormalities in the brain.
Protein and Energy supplementing components of Lycomalt:
Malt Extract is infused with Vitamin E, B2, B3, B6 and B12, Folic Acid and minerals such as Calcium, Cuprum, Iron, Magnesium and Phosphorous, as well as some amino acids useful for protein synthesis. The maltose in malt extract is easily digestible and it provides a quick source of energy. B vitamins are needed for metabolism and energy production. Vitamin E has anti-oxidant properties. Minerals are needed for normal muscle tone and strong bones.
Milk Protein Hydrolysates are pre-digested milk proteins that are easily digested and rapidly absorbed by the human body. Intake of milk protein decreases the risk factors for metabolic disorders like hypertension, dyslipidaemia, and mild hyperglycaemia. In diet planned for energy-restricted weight loss regime, inclusion of milk protein promotes increased lean body mass and decreased adiposity. Branched chain amino acids (BCAAs) derived from milk protein exerts anabolic effects by enhancing skeletal muscle growth and protein synthesis whilst aiding loss of body weight and fat mass through enhanced satiety.     
                                        
Indications:
Lycomalt is indicated as a daily tonic for promoting bone, cardiovascular and nervous system health and well being.
It can prescribed as rejuvenating tonic to relieve from stress and stress related health problems
It is indicated for promoting healthy skin and as prophylaxis against infections for children and even adults

Dosage:
One teaspoon ( 5ml) daily after breakfast or after supper. Or as prescribed by Physician depending on age and body mass index.
Dosage:
Lycomalt is contraindicated in patients with known hypersensitivity to any of the ingredients of Lycomalt.
High-dose of niacinamide (doses greater than 500 milligrams/day) is contraindicated in those with liver disease and in those with active peptic ulcer disease.
Side effects:
Lycomalt is generally well tolerated.
Warnings and Precautions:
General:
Lycomalt is not recommended for the treatment of severe specific deficiencies of amino acids and vitamins. In such cases, the underlying cause should be determined and corrected.
No other vitamins, minerals or supplements should be taken with this preparation except under medical supervision.
Ask the doctor before using Lycomalt if you have any medical conditions.
Patients being treated with levodopa without concurrently taking the levodopa decarboxylase inhibitor, carbidopa, should avoid doses of vitamin B6 of 5 milligrams or greater daily.
The use of vitamin B6for the treatment of vitamin B6deficiency, for the prophylaxis of isoniazid-induced peripheral neuropathy, for the treatment of vitamin B6-dependency disorders requires medical supervision.
The use of Niacinamide for any medical indication requires medical supervision.
Niacinamide is to be avoided or to be used with caution in patients with a history of peptic ulcer disease, gastritis, liver disease, gallbladder disease, diabetes and gout.
Drug Interactions:
The following drugs are known for having drug interactions with calcium-vitamin D supplements:
Thiazide diuretics
Systemic corticosteroids
Ion exchange resins
Tetracyclines
Cardiac glycosides
Carbamazepine shows drug interactions with niacinamide and vitamin B6
Amiodarone, Cycloserine, Ethionamide, Fosphenytoin, Hydralazine, Isoniazid, Pencillamine, Phenobarbital, Phenytoin, Theophylline, Valproic acid, Alcoholic beverages are known to have drug interactions with Vitamin-B6
Pregnancy and lactation:
Pregnant and lactating mothers should not exceed the U.S RDA i.e., daily amount of vitamins that the FDA has established as sufficient to maintain the nutritional health of persons in various age groups and categories.
Dosage could exceed U.S RDA limits only when prescribed by Physicians based on the need of the pregnant or lactating woman.

References:
https://nutrawiki.org/malt_extract/
https://www.ncbi.nlm.nih.gov/pmc/articles/PMC2863355/
https://www.ncbi.nlm.nih.gov/pmc/articles/PMC3218540/
https://www.researchgate.net/publication/26824464_Independent_inverse_relationship_between_serum_lycopene_concentration_and_arterial_stiffness

Disclaimer:
Information provided above is for reference purpose only and has been compiled for use by healthcare practitioners. Please consult your physician to understand how the product affects you, its dosages, side-effects and further information.
Remember, keep this and all other medicines out of the reach of children, never share your medicines with others, and use this medication only for the indications prescribed by your physician.
Every effort has been made to ensure that the information provided by Pharma Synth Formulations Ltd. ('PSFL') is accurate, up-to-date, and complete, but no guarantee is made to that effect. PSFL does not endorse drugs, diagnose patients or recommend therapy and is an informational resource designed to assist licensed healthcare practitioners in caring for their patients and/or to serve consumers viewing this service as a supplement to, and not a substitute for, the expertise, skill, knowledge and judgment of healthcare practitioners. PSFL does not assume any responsibility for any aspect of healthcare administered with the aid of information provided. The information contained herein is not intended to cover all possible uses, directions, precautions, warnings, drug interactions, allergic reactions, or adverse effects. If you have questions about the drugs you are taking, check with your doctor, nurse or pharmacist.