TeaAmmrit
.:: COMPOSITION ::.
Each 12 g coarse powder contains :
» Tulsi    (Ocimum sanctum)    Leaves    A.P.I.    4 g
» Dal Chini    (Cinnamomum zeylanicum)    Stem Bark    A.P.I.    2 g
» Sunthi    (Zingiber officinale)    Rhizome    A.P.I.    2 g
» Krishna Marich (Piper nigrum)    Fruit    A.P.I.    1 g
» Mulethi    (Glycyrrhiza glabra)    Stem Bark    A.P.I.    1 g
» Bhui Amla    (Phyllanthus niruri)    Panchang    A.P.I.    2 g
Description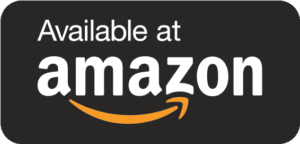 Enhances Immunity, Improves Health.
Including Natural Immunity Boosters to your daily routine can also help in stimulating and boosting your immune system, maintaining your health, and helps you remain smart and active. Enriched with the goodness of Mulethi and Bhui Amla TeaAmmrit (Kwath) helps in increasing the body's ability to fight against illnesses.
Ministry of Ayush, Govt. of India has recommended a Kwath which is a combination of 4 important herbs- Tulsi, Dalchini, Sonth and Kali Mirch. Tea Ammrit is fortified with the goodness of Mulethi & Bhui Amla to enhance body's inner strength to fight infections.
TeaAmmrit is very easy to make:-
• Take one teaspoonful (4g) of TeaAmmrit and boil for 2 minutes in 2 cup (400ml) of water. You may adjust the quantity to suit your taste.
• Gud, Mishri or Munnakka may be added while boiling.
• Lemon juice may also be added for good taste.
• Enjoy this Kwath like tea or hot drink.
• TeaAmmrit may also be used as Chai Masala, to make your tea, a health drink.
TeaAmmrit enhances immunity and improves health and keeps you smart & active

.:: COMPOSITION ::.
Each 12 g coarse powder contains :
Tulsi    (Ocimum sanctum)    Leaves    A.P.I.    4 g
Dal Chini    (Cinnamomum zeylanicum)    Stem Bark    A.P.I.    2 g
Sunthi    (Zingiber officinale)    Rhizome    A.P.I.    2 g
Krishna Marich (Piper nigrum)    Fruit    A.P.I.    1 g
Mulethi    (Glycyrrhiza glabra)    Stem Bark    A.P.I.    1 g
Bhui Amla    (Phyllanthus niruri)    Panchang    A.P.I.    2 g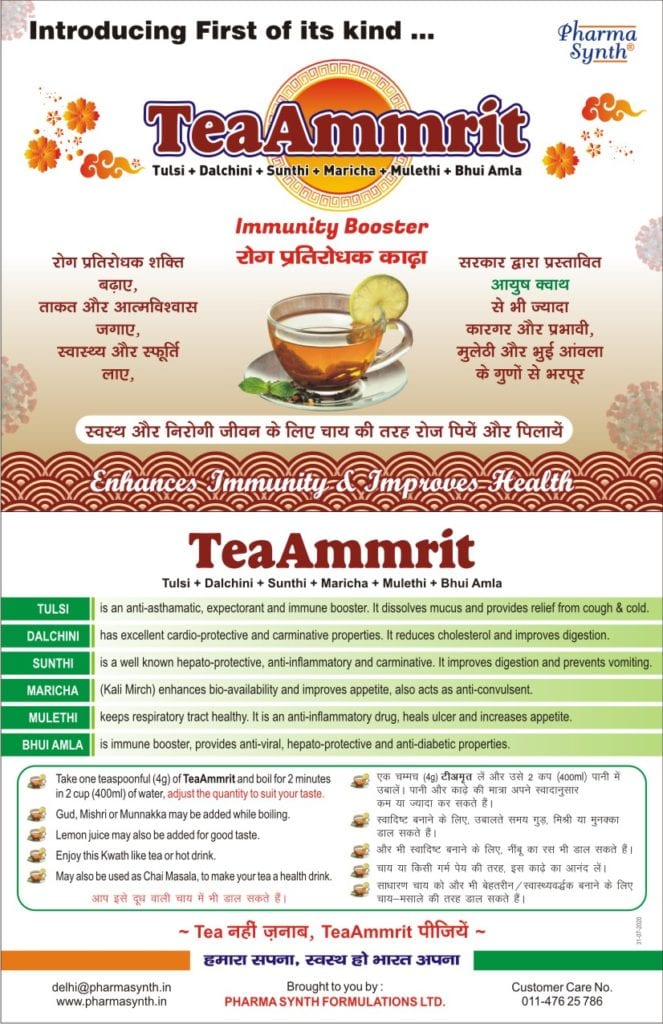 Product Description
Tea Ammrit Ayush Kwath is a potent Ayurvedic formulation that plays a great role in boosting your immunity system, the body's first line of defense against bacteria, viruses, or common health problems. The decoction is a combination of 6 useful and beneficial medicinal herbs that is prepared from the best quality Tulsi (basil), Sunthi (dried ginger), Kali Mirch (black pepper), Dalchini (cinnamon) and is enriched with the goodness of Mulethi and Bhui Amla, all together in right quantities the end composition helps in improving respiratory health, boosts digestion, and is also beneficial in relieving cold and cough. Tea Ammrit Ayush Kwath is made in accordance with the suggestions given by the Ministry of AYUSH and claims to boost the body's immunity amid the COVID-19 outbreak.
Benefits
TeaAmmrit is a quality assured one of its kind natural immunity booster fortified with the goodness of best quality medicinal herbs. It has several health benefits like:
Stimulates and enhanes your immune health

Boosts Digestion

Helps in improvising your health

Helps your body defend against common disease-causing microorganisms

Helps you to remain smart & active
Health Benefits of Individual Ingredients
Tulsi (Ocimum sanctum)
Tulsi (or basil leaves) are rich in calcium, iron, magnesium, and other vital minerals that are required by the body. It is also a good source of Vitamin A, Vitamin C, Vitamin K, and folate which is needed by the body on a daily basis.
Dal Chini (Cinnamomum zeylanicum)
Cinnamon has powerful medicinal properties and is loaded with antioxidants that protect the body from the attack of cell-damaging agents. It aids the body in fighting infections that have anti-inflammatory, anti-fungal, anti-microbial, and anti-diabetic properties. The spice is also a good source of manganese, iron, fiber, calcium, and vitamin K.
Sunthi (Zingiber officinale) Rhizome
Sunthi has anti-inflammatory properties that helps in improving the digestion and also plays a significant role in boosting the overall metabolism of the human body. It is a magical natural medicine that can be used for treating common cold too and also has anti-bacterial properties that help prevent any sort of infection in the body.
Krishna Marich (Piper nigrum) Fruit
Krishna Mirch aids in digestion and has anti-bacterial, anti-fungal, and anti-irritant properties.
Mulethi (Glycyrrhiza glabra) Stem Bark
Mulethi is a wonder spice that helps in keeping the respiratory tract healthy and is beneficial in curing conditions like cough and bronchitis. Regular use of mulethi is good for boosting immunity and digestion.
Bhui Amla (Phyllanthus niruri) Panchang
The herb is effective for treating problems of common cold, cough, and chronic respiratory disorders. It is also good for maintaining liver function and boosts immune function too.
Procedure
Boosting your body's Immunity against COVID-19 is just a few easy and simple steps away. Follow the step by step guide discussed below and your Tea Ammrit is ready.
Firstly, take one teaspoonful (4g) of TeaAmmrit and then boil it for 2 minutes in 2 cups (400ml) of water. The quantity can be adjusted as per the requirement.

If you like your drinks sweet then you can add either of the three Gud, Mishri, or Munnakka while the formulation is boiling.

The taste can be enhanced more by adding a little lemon juice to the drink after the boil. Lemon Juice gives a pleasant and good taste to the drink.

The hot drink or Tea Ammrit is now ready. Enjoy it and boost your immunity.
TeaAmmrit can also be used as a Chai Masala to make your tea or health drink.
The dosage for different demographics is as followed:
Above 15 years – Adult dose

Between 10-15 years – ¾ of Adult dose

Between 5-10 years – ½ of Adult dose

Below 5 years – ¼ of Adult dose
Never forget that "Your greatest Wealth is your Health" and hence it is very vital to take good care of your health as "Wellness is the ultimate path to Happiness". Create healthy lifestyle habits and not restrictions.