Speedex Gel | Muscle & Joint Pain Reliver
.:: COMPOSITION ::.
» esiclofenac 1.16%, Methyl Salicylate 10%, Oleum lini 3%, Menthol 5%
Description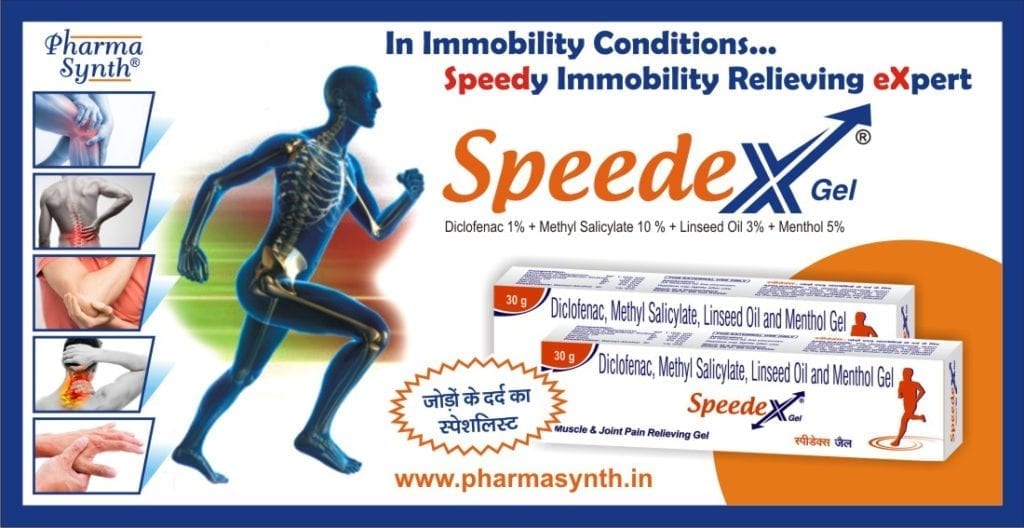 Composition:
Diclofenac 1.16%
Methyl Salicylate 10%
Linseed oil 3%
Menthol 5%

Dosage form:
Gel for topical use

ATC classification:
Non-steroidal anti-inflammatory drug (NSAID)

Description: 
Speedex gel for topical use comprises a non-steroidal anti-inflammatory drug (NSAID), a counter irritant, an anti inflammatory agent and a cooling agent that work towards providing a quick analgesic relief. Diclofenac is the non-steroidal anti-inflammatory drug present in Speedex gel. Methyl salicylate acts as both NSAID and counter irritant. Whereas linseed oil and menthol provides the anti inflammatory and cooling effect respectively. The comprehensive formula of Speedex gel provides immediate relief in conditions like sprains and muscle/joint pains that cause temporary immobility.

Pharmacological action:
Diclofenac works by inhibitng the enzyme, cyclooxygenase (COX), an early component of the arachidonic acid cascade that results in the formation of prostaglandins, thromboxanes and prostacyclin.  Prostaglandins are produced at sites of injury or damage causing pain and inflammation. Diclofenac by blocking the effect of COX enzymes, reduce the prostaglandin formation, which means pain and inflammation are eased.
Methyl salicylate is also a NSAID, commonly known as wintergreen oil. It is used in external analgesic drug products for its counterirritant properties. Counterirritancy is the mechanism of irritation of sensory nerve endings that offsets firing of pain nerve endings in muscles and joints, thereby masking the underlying discomfort due to pain. When applied topically, methyl salicylate induces skin redness and irritation leading to analgesic effect. After absorption through the skin it is converted to salicylic acid.
Linseed oil is also known as flax seed oil. It is rich in alpha-linolenic acid (ALA), an essential fatty acid of omega-3 group which has an anti-inflammatory action.
Menthol is commonly used on the skin, also as a counterirritant in external analgesic drug products. It has a local distracting and mild analgesic action, besides inducing a cooling sensation. When applied topically it dilates blood vessels and stimulates nerves that perceive cold and suppresses firing of pain sensing nerves.
Pharmacokinetics:
When applied topically diclofenac , methyl salicylate, linseed oil are rapidly absorbed, penetrate into the subcutaneous fat, muscular tissue and joint capsule, and act to reduce the pain and inflammation in the joints, morning stiffness and swelling of joints, facilitate increase in the extent of movements.
Systemic exposure and maximum plasma concentrations of diclofenac are significantly lower with diclofenac gel than with comparable oral treatment of diclofenac sodium.

Indications:
¬ Speedex gel is indicated as adjuvant therapy in reducing the pain and inflammation associated with diseases of the locomotor system: rheumatoid arthritis, psoriatic arthritis, ankylosing spondylarthritis, osteoarthrosis of peripheral joints and spinal column, osteochondrosis with radicular syndrome, sciatica
¬ To provide relief from sprains & strains, inflammation and pain due to musculoskeletal disorders and due to traumatic damage to soft tissues (sprains, brusises).
¬ To provide relief from pain and inflammation due to rheumatic damage to soft tissues (tenosynovitis, bursitis)
¬ Muscular pain of rheumatic or non-rheumatic origin

Dosage and Administration:
¬ For external use only.
¬ Adults and children over 12 years: apply the formulation on the skin 3-4 times in a day and rub in gently. The quantity of formulation to be used depends upon the size of the painful area. A single dose is 2-4 g (around 4-8 cm of gel when the tube neck is fully open).
¬ Children from 6 to 12 years old: apply no more than 2 times a day, a single dose of 2 grams.
Note: The duration of treatment without consulting a physician should not exceed 10 days. The possibility of a long-term use of medicine should be decided by the physician.
Dosage and method of application for lower Extremities, Including the Knees, Ankles and Feet:
Apply the gel (2-4 g) to the affected foot or knee or ankle, 4 times daily. Speedex gel should be gently massaged into the skin, ensuring application to the entire affected foot or knee or ankle. The entire foot includes the sole, top of the foot and the toes.
Note: Do not apply more than 16 g daily to any single joint of the lower extremities.
Upper Extremities, Including the Elbows, Wrists and Hands:
Apply the gel (2 g) to the affected hand or elbow or wrist, 3-4 times daily. Speedex gel should be gently massaged into the skin, ensuring application to the entire affected hand or elbow or wrist. The entire hand includes the palm, back of the hands, and the fingers.
Note: Do not apply more than 8 g daily to any single joint of the upper extremities.
It is recommended that total dose should not exceed 32 g per day over all affected joints.

Contraindications:
Speedex gel is contraindicated in patients with a known hypersensitivity to diclofenac, methyl salicylate, acetylsalicylic acid, aspirin, other NSAIDs or other components of the formulation.
Speedex gel is contraindicated in asthma, pregnancy (third trimester), lactation period, children below 6 years, broken skin.

Side effects:
If any of the below mentioned adverse reactions are observed then discontinue use and consult your Physician
Local reactions: Contact dermatitis (itching, redness, edema of treated area of skin, papules, vesicles, peeling), eczema, photosensitization.
Systemic reactions: Allergic reactions (urticaria, Quincke's (angioneurotic) oedema, bronchospastic reactions), generalised skin rash.

Warnings and Precautions:
General:
Do not apply on broken skin and on open wounds.
After application of Speedex gel, occlusive dressing of the concerned area is not recommended.
Avoid contact with the eyes and mucous membranes.
Use with caution and only if prescribed by physician in severe disorders of the liver and kidney functions, bronchial asthma, pregnancy (first and second trimesters), elderly patients.
Drug interactions:
The following are known to show drug interactions with the formulation:
Drugs which induce photo sensitization are known to have potentiated effects when administered concomitantly with diclofenac.
It is recommended to avoid other topical products, including topical medications, sunscreens, lotions, moisturizers and cosmetics at the area where Speedex gel is applied.
Pregnancy and Lactation:
This formulation should not be used in the third trimester of pregnancy. Due to the lack of sufficient studies of using this formulation during lactation, its use in this period is not recommended.

References:
Diclofenac:
https://pubchem.ncbi.nlm.nih.gov/compound/diclofenac#section=Drug-and-Medication-Information
Methy Salicylate:
https://pubchem.ncbi.nlm.nih.gov/compound/4133#section=Drug-and-Medication-Information
https://www.fda.gov/

Disclaimer:
Information provided above is for reference purpose only and has been compiled for use by healthcare practitioners. Please consult your physician to understand how the product affects you, its dosages, side-effects and further information.
Remember, keep this and all other medicines out of the reach of children, never share your medicines with others, and use this medication only for the indications prescribed by your physician.
Every effort has been made to ensure that the information provided by Pharma Synth Formulations Ltd. ('PSFL') is accurate, up-to-date, and complete, but no guarantee is made to that effect. PSFL does not endorse drugs, diagnose patients or recommend therapy and is an informational resource designed to assist licensed healthcare practitioners in caring for their patients and/or to serve consumers viewing this service as a supplement to, and not a substitute for, the expertise, skill, knowledge and judgment of healthcare practitioners. PSFL does not assume any responsibility for any aspect of healthcare administered with the aid of information provided. The information contained herein is not intended to cover all possible uses, directions, precautions, warnings, drug interactions, allergic reactions, or adverse effects. If you have questions about the drugs you are taking, check with your doctor, nurse or pharmacist.