ORA-G
.:: COMPOSITION ::.
» Tannic Acid IP '66' 5.0&#37 w/v
» Choline Salicylate 8.0&#37 w/v
» Cetrimide IP 0.02&#37 w/v
» Menthol IP 0.05&#37 w/v
in a Glycerin base.
Description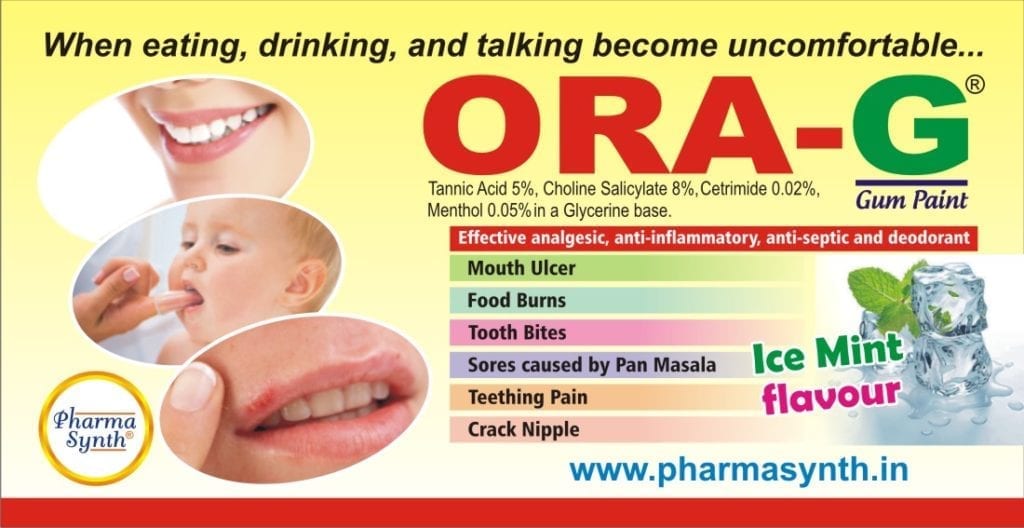 Time tested Gum paint for painful-inflammatory Gum conditions.
ORA-G mouth gel contains
Tannic Acid IP                                                                                          5.0%
Choline Salicylate                                                                                    8.0%
Cetrimide IP                                                                                              0.02%
Menthol IP                                                                                                0.05%
In a Glycerin base.
Mouth gel
ORA-G mouth gel and gum paint is a formula designed to provide analgesic, anti-inflammatory, antiseptic relief from pain and irritation associated with mouth ulcers, canker sores, teething and denture.
Tannic acid, the astringent component of ORA-G helps in healing and provides relief from irritation due to mouth ulcers and canker sores. When applied to the effected gums and mouth it works as antiseptic by waterproofing the outer layers of more exposed mucous membranes. It forms a protective layer (tannin-protein/tannin-polysaccharide complex), over injured epithelial tissues permitting the healing process below to occur naturally. It changes the pH at applied area, making it less accommodating to the bacteria which causes canker sores.
Choline salicylate is a non-steroidal anti-inflammatory drug (NSAIDs). It's similar to, but not the same as aspirin. It works by blocking the action of cyclo-oxygenase (COX) enzymes, which synthesizes prostaglandins that cause pain, swelling and inflammation in response to injury and inflammation. Choline salicylate reduces pain and inflammation in the area of mouth where it is applied by reducing the production of these prostaglandins.
Cetrimide is an antiseptic that prevents the growth of bacteria and fungi that could infect sore or broken skin in the mouth. It helps prevent the irritated areas from getting infected and aids in healing of the ulcers.
Menthol acts as counter irritant and relieves pain at the applied area.
ORA-G is indicated for relief from
Teething pain
Mouth ulcers
Food burns
Tooth bites
Irritation due to dentures
Sores caused by pan masalas
Cold sores
Canker sores
Sore spots from braces
Wounds caused by dental prostheses and orthodontic devices
Dosage and Administration:
Recommended dosage unless otherwise directed by your Physician:
For children up to 16yrs of age: Take pea size gel on the tip of your clean finger and then massage into the affected area. Apply ORA-G for every 3-4 hours but not more than 6 times in a day.
Note: Do not use more than 1/4th of a tube in a day.
Note: Not for infants below the age of 4
For Adults: Place 1-1.5cms of gel on the tip of your clean finger and then massage into the affected area. Apply ORA-G for every 3-4 hours but not more than 6 times in a day.
Note: Please consult your doctor if there is no improvement within 3 days.
Apply to the affected area with your clean finger. Do not swallow
While using for denture irritation, leave 30 minutes after applying the gel before putting the dentures back in. Don't apply the gel directly to the dentures, as this can further irritate the gums.
ORA-G is contraindicated
In patients hypersensitive to salicylic acid and salicylates e.g., Aspirin or to one of the other components of the drug
Hypersensitive to any other ingredients present in ORA-G
People with an active stomach ulcer
If local irritation develops at the site of application then stop the treatment and refer to your doctor immediately.

Warnings and Precautions:
General Warnings:
Do not exceed the stated or prescribed dose.
Do not use this medication frequently and for longer periods of time without consulting your doctor.
Do not take this medication without consulting your doctor if you have or had impaired respiratory function (asthma), Digestive system problems (ulcers) or any blood clotting disorders
Drug Interactions:
Inform your doctor or pharmacist if you are using any other medication or were on any therapy recently.
Inform your doctor or pharmacist if you are using any salicylates, abti-gout medications and anticoagulants.
Pregnancy and lactation:
ORA-G is not known to be harmful when used by pregnant women, providing the recommended dose is not exceeded. However it is best to avoid using it towards the end of the pregnancy because salicylates are known to increase the risk of bleeding. Get medical advice from your doctor before using any medicine during pregnancy.
Salicylates may pass into breast milk in very small amounts, but are unlikely to have any adverse effects on a nursing infant. However, as with all medicines, always check with your doctor or pharmacist before using ORA-G if you're breastfeeding.
 https://www.ncbi.nlm.nih.gov/pmc/articles/PMC3317710/

Disclaimer:
Information provided above is for reference purpose only and has been compiled for use by healthcare practitioners. Please consult your physician to understand how the product affects you, its dosages, side-effects and further information.
Remember, keep this and all other medicines out of the reach of children, never share your medicines with others, and use this medication only for the indications prescribed by your physician.
Every effort has been made to ensure that the information provided by Pharma Synth Formulations Ltd. ('PSFL') is accurate, up-to-date, and complete, but no guarantee is made to that effect. PSFL does not endorse drugs, diagnose patients or recommend therapy and is an informational resource designed to assist licensed healthcare practitioners in caring for their patients and/or to serve consumers viewing this service as a supplement to, and not a substitute for, the expertise, skill, knowledge and judgment of healthcare practitioners. PSFL does not assume any responsibility for any aspect of healthcare administered with the aid of information provided. The information contained herein is not intended to cover all possible uses, directions, precautions, warnings, drug interactions, allergic reactions, or adverse effects. If you have questions about the drugs you are taking, check with your doctor, nurse or pharmacist.