Gynotab
.:: COMPOSITION ::.
Each uncoated vaginal tablet contains:
» Tinidazole IP 500 mg
» Clotrimazole IP 200 mg
» Lactic Acid Bacillus 150 million spores
Description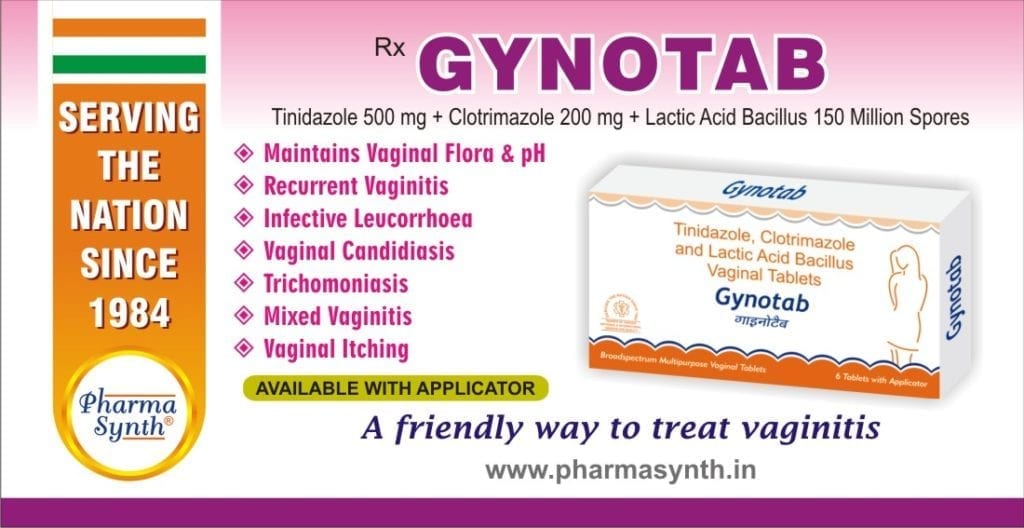 A Broad spectrum multipurpose Vaginal tablets
GYNOTAB
Composition:
Each uncoated GYNOTAB vaginal tablet contains:
Antimicrobials:
Tinidazole IP                                                                  500 mg
Clotrimazole IP                                                               200 mg
Probiotics:
Lactic Acid Bacillus                                                    150 million spores

Dosage form:
Vaginal Tablets
ATC classification:
Antiinfective agents
Description: 
Gynotab is a comprehensively designed formula to treat microbial infections of vagina and to promote the growth of normal vaginal flora. Tinidazole, the anti protozoal and anti bacterial component of Gynotab treats infections by microbes in Vaginal areas. Clotrimazole, the antimycotic agent of Gynotab not only treats fungal infections of vagina but also acts as precautionary measure against development of vaginal candidiasis due to the use of tinidazole. Lactic acid bacillus spores, the probiotic component re-establishes normal lactobacillus predominant flora in the vagina and also prevents recurrent infections.
Pharmacological action:
Pharmacodynamics of tinidazole:
Tinidazole, the antiprotozoal nitro-imdiazole derivative is a prodrug. It is activated by infection causing microorganism Trichomonas vaginalis. Free nitro radical is generated from tinidazole when Trichomonas induces a reduction reaction. This toxic free radical irreversibly binds to DNA of trichomonas, causing DNA damage and leading to cell death.
Mechanism of action of Tinidazole in Entamoeba histolytica and Giardia lamblia infections is unknown and thought to be similar to its action against Trichomonas vaginalis.
Tinidazole demonstrates activity against the following organisms:
Bacteroides:
Gardnerella vaginalis
Prevotella species
Anaerobic bacteria have greater susceptibility to tinidazole
Protozoal parasites
Trichomonas vaginalis
Giardia duodenalis (G. lamblia)
Entamoeba histolytica
Tinidazole is active against some protozoa resistant to metronidazole
It does not have activity against most strains of vaginal lactobacilli.
Pharmacokinetics of tinidazole:
Elimination half life of tinidazole determined after oral administration, was found to be 13.2 (+/-1.4) hrs. It distributes in all tissues and body fluids with a volume of distribution of 50L. It crosses the blood-brain barrier, placental barrier and is distributed into breast milk.
Elimination: 20-25% of unchanged drug is excreted in urine and 12% is excreted via feces.
However, compared with oral dosing, only about 10% of the intravaginal tinidazole is absorbed on an average. Hence, tinidazole administered via vaginal route exerts local action with no systemic side effects. The treatment of anaerobic vaginosis with vaginal tinidazole was found to be effective and particularly useful if an intra-uterine contraceptive device was in concurrent use.
Pharmacodynamics of Clotrimazole:
Clotrimazole, the broad spectrum antifungal acts by inhibiting ergosterol synthesis. Cell membranes of fungi and protozoa are made of ergosterol, inhibition of its synthesis leads to impairment of cytosplasmic membrane. Clotrimazole is known to have activity against dermatophytes, moulds and yeasts. In addition to its antifungal action, it also acts on gram-positive bacteria (Streptococci /Staphylococci / Gardnerella vaginalis), and gram-negative bacteria. Depending on the concentration of clotrimazole at the site of action, it exhibits fungi static and fungicidal activity.
Pharmacokinetics of Clotrimazole:
Pharmacokinetic studies after vaginal application of clotrimazole have shown that only a small amount of drug (3-10%) is absorbed. Clotrimazole undergoes rapid hepatic metabolism into inactive metabolites and the resulting peak plasma concentrations of Clotrimazole-500mg given via vaginal route were found to be less than 10ng/ml. From these findings it is inferred that Clotrimazole given via vaginal route is unlikely to show systemic side effects.
Pharmacodynamics of Lactic acid Bacillus:
Lactic acid bacillus spores incorporated into the vagina adhere to the vaginal cells and restore indigenous lactobacilli. Depletion of natural vaginal flora by the antimicrobials, often leads to recurrent infections. Use of probiotics replenishes the vaginal flora, reducing the risk of re-infections and bacterial vaginosis. Lactic acid produced by Lactic acid bacillus spores not only restores the normal vaginal pH to 3.8-4.5 but also exhibits anti-microbial activity. Probiotics are known to produce anti-infective defenses like biosurfactants that prevent the adhesion of pathogens to the vagina by altering the surface tension. By this mechanism they also prevent spreading of pathogens to other areas of vagina and urinary bladder.
Indications:
Vaginal and vulvo-vaginal infections
Leucorrhea with itching and burning sensation of vulva when bacterial or candidal infection is suspected
Vaginal mycoses secondarily infected with bacteria
Trichomoniasis caused by Trichomonas vaginalis
Vaginal infections caused by Gardnerella vaginalis
Recurrent vaginitis, mixed vaginitis and as prophylaxis against bacterial vaginosis
Dosage and Administration:
The recommended dosage of Gynotab is 1vaginal tablet to be introduced each evening on 6 successive days or 2 vaginal tablets may be inserted into the vagina at bedtime for 3 consecutive nights.
Vaginal tablets need moisture in the vagina to dissolve completely. To prevent crumbling out of undissolved pieces of tablet, it is important to insert the medication as deeply as possible into the vagina at bedtime.
lf labia and adjacent areas to vagina are simultaneously infected, local treatment with an external cream should also be given in addition to the intravaginal treatment (combination treatment).
Note:
Treatment should not be performed during the menstrual period. The treatment should be finished before the onset of menstruation.
Do not use tampons, spermicides, intravaginal douches or other vaginal products while using this product.
Avoidance of vaginal intercourse is recommended in case of vaginal infection and while using this product the partner could become infected.
Directions for use:
Mode of administration of Gynotab is intra vaginal using the applicator
Directions for using the Applicator:
1. Pull out plunger of the applicator until it stops then place a vaginal tablet into the applicator.
2. Insert applicator containing the tablet carefully and as deeply as possible into vagina. It is advisable for patients to be lying back with the legs slightly drawn up for maximum insertion of applicator.
Push plunger until it stops; this deposits the tablet into the vagina. Remove the applicator.
4. After use, remove plunger completely by pulling it out of applicator. Then wash it in warm (not boiling) soapy water, rinse and dry carefully.Important Notice:
During pregnancy, insertion of the tablet should be done without using the applicator.
Contraindications:
Gynotab is contraindicated in patients with a known hypersensitivity to any of the ingredients present in the Gynotab
Tinidazole/ Tinidazole containing preparations should be used with caution in patients with evidence or history of blood dyscrasia.
Side effects:
Gynotab is well tolerated with no prominent side effects
If any of the below mentioned adverse reactions are observed then discontinue use and consult your Physician
Immune system disorders: Allergic reaction (syncope, hypotension, dyspnea, urticaria)
Reproductive system and breast disorders: genital peeling, pruritis, rash, edema, erythema, pelvic pain, discomfort, burning, irritation, & vaginal haemorrhage.
Gastrointestinal disorders: abdominal pain.
Warnings and Precautions:
General:
Not for oral use
Not for use in children under 16.
Gynotab should not be used if the patient has any of the following symptoms where upon medical consultation should be sought: –
Irregular vaginal bleeding.
Abnormal vaginal bleeding or a blood-stained discharge

Foul smelling vaginal discharge

Vulval or vaginal ulcers, blisters or sores.
Lower abdominal pain or dysuria.
Adverse events such as redness, irritation or swelling associated with the treatment.
Fever or chills.
Nausea or vomiting.
Diarrhea.
Ø Patients should be advised to consult their physician if the symptoms of the intended vaginal infection have not been relieved within one week of using Gynotab vaginal tablet.
Ø Gynotab prevents recurrent infections. However, if the infection recurs more than twice within six months, patients should be advised to consult their physician.
Drug Interactions:
Ø Gynotab vaginal tablet has clotrimazole which when given concomitantly with oral tacrolimus and oral sirolimus might lead to increased plasma levels of the respective drugs possibly leading to risk of overdose.
Ø Tinidazole shows drug interactions with Cholestyramine, coumarin anticoagulants, lithium, phenytoin, fosphenytoin, rifampin, phenobarbital, cyclosporine, tacrolimus, fluorouracil, oxytetracycline, cimetidine, ketoconazole.
Ø Ethylalcohol, ethanol containing preparations, propylene glycol should not be used concurrently with tinidazole or for 3 days following tinidazole therapy.
Ø Alcoholic patients on disulfiram therapy should not be administered tinidazole concurrently or for 2 weeks following the therapy. As it may result in confusion and psychotic reactions because of combined toxicity.
Pregnancy:
Pregnancy category: C
Tinidazole is contraindicated during the first trimester of pregnancy. During the second and third trimester of pregnancy, tinidazole is only recommended for use when there are no alternatives and benefit outweighs risk.
Lactation:
Tinidazole and clotrimazole are excreted into human milk. The effects in the nursing infant are unknown. Hence, breast-feeding is not recommended during therapy and for 72 hours following the last dose.

References:
Comparative Pharmacokinetics of Metronidazole and Tinidazole as Influenced by Administration Route
Vaginal Microbiota and the Use of Probiotics

Disclaimer:
Information provided above is for reference purpose only and has been compiled for use by healthcare practitioners. Please consult your physician to understand how the product affects you, its dosages, side-effects and further information.
Remember, keep this and all other medicines out of the reach of children, never share your medicines with others, and use this medication only for the indications prescribed by your physician.
Every effort has been made to ensure that the information provided by Pharma Synth Formulations Ltd. (\'PSFL\') is accurate, up-to-date, and complete, but no guarantee is made to that effect. PSFL does not endorse drugs, diagnose patients or recommend therapy and is an informational resource designed to assist licensed healthcare practitioners in caring for their patients and/or to serve consumers viewing this service as a supplement to, and not a substitute for, the expertise, skill, knowledge and judgment of healthcare practitioners. PSFL does not assume any responsibility for any aspect of healthcare administered with the aid of information provided. The information contained herein is not intended to cover all possible uses, directions, precautions, warnings, drug interactions, allergic reactions, or adverse effects. If you have questions about the drugs you are taking, check with your doctor, nurse or pharmacist.