CIFIGOLD Inj.-1.5
.:: COMPOSITION ::.
Each vial contains :
» Sterile Ceftriaxone Sodium IP
eqv.to Anhydrous Ceftriaxone 1000 mg
» Sterile Sulbactam Sodium USP
eqv.to Sulbactam 500 mg
Description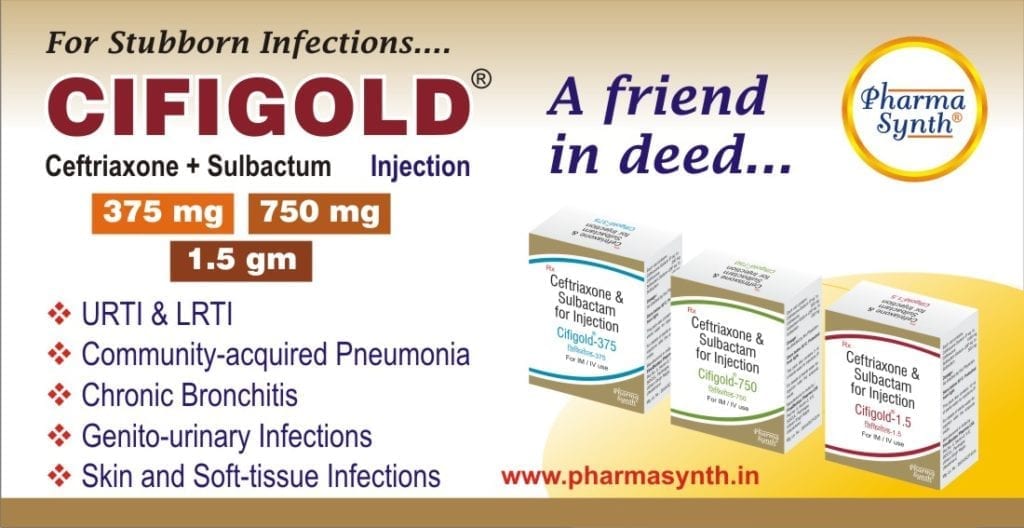 A Golden combination of safe antibiotic with proteolytic enzyme & probiotic.
Composition:
Each vial of CIFIGOLD INJ-1.5 contains:
Sterile Ceftriaxone Sodium IP equivalent to Anhydrous Ceftriaxone 1000 mg
Sterile Sulbactam Sodium USP equivalent to Sulbactam 500 mg
Supplied with 10 ml sterile Water for Injection, IP
Dosage form:
Powder for reconstitution (intravenous /intramuscular )
ATC classification:
Antibacterials for systemic use
Description:
CIFIGOLD INJ-1.5 consists of a beta-lactamase inhibitor, Sulbactam plus a beta-lactam, Ceftriaxone in the ratio of 1:2.
Ceftriaxone is a semisynthetic, broad-spectrum, 2-aminothiazolyl methoxylmino third-generation cephalosporin antibiotic for intravenous or intramuscular administration. It is more active against gram-negative bacteria and has reasonable activity against gram-positive bacteria.
Sulbactam is an irreversible inhibitor of β-lactamase, an enzyme produced by bacteria that destroys the antibiotics. It binds to the enzyme and does not allow it to degrade ceftriaxone.
Pharmacological action:
Mechanism of Action:
Ceftriaxone, a beta-lactam antibiotic, inhibits bacterial cell wall synthesis by inhibiting the mucopeptide synthesis of actively dividing cells. It also binds to one or more penicillin-binding proteins (PBPs). These proteins are located in the bacterial cell membrane and serve in cell wall synthesis. The result is the formation of a defective cell wall that is osmotically unstable.
Sulbactam is an irreversible inhibitor of most important beta-lactamases produced by beta-lactam antibiotic-resistant organisms. Though Ceftriaxone is stable against hydrolysis by a variety of beta-lactamases, including penicillinases, and cephalosporinases and extended spectrum beta-lactamases, its efficacy is increased and turnover rate is increased when combined with sulbactam. Sulbactam also binds with some penicillin binding proteins; therefore sensitive strains are often rendered more susceptible to Sulbactam/Ceftriaxone than to Ceftriaxone alone.
The combination of Sulbactam and Ceftriaxone is active against all the organisms sensitive to Ceftriaxone. In addition, it demonstrates synergistic activity (reduction in minimal inhibitory concentrations for the combination versus those of each component) in a variety of organisms.
Gram-negative bacteria
Acinetobacter calcoaceticus
Enterobacter aerogenes
Enterobacter cloacae
Escherichia coli
Haemophilus influenzae
Haemophilus parainfluenzae
Klebsiella oxytoca
Klebsiella pneumoniae
Moraxella catarrhalis
Morganella morganii
Neisseria gonorrhoeae
Neisseria meningitidis
Proteus mirabilis
Proteus vulgaris
Serratia marcescens
Pseudomonas aeruginosa
Gram-positive bacteria
Staphylococcus aureus
Staphylococcus epidermidis
Streptococcus pneumoniae
Streptococcus pyogenes 
Viridans group streptococci
Anaerobes
Bacteroides fragilis
Clostridium species
Peptostreptococcus species
Pharmacokinetics of Ceftriaxone: 
Absorption: In ceftriaxone pharmacokinetic studies the areas under plasma concentration versus time curves following I.V and I.M administration were identical. This indicates I.M Ceftriaxone has 100% bioavailability.
Distribution: Following I.V administration, Ceftriaxone rapidly passes into interstitial body fluids, where bactericidal concentration for susceptible organisms remains for 24hrs. Therapeutically effective concentrations are attained in the central nervous system when used for meningitis.
Protein binding: Ceftriaxone binds reversibly with albumin. Protein binding was found to be concentration dependent.
Metabolism: 33-67% of Ceftriaxone is renally excreted as unchanged drug. The rest is excreted in the bile as inactive compounds from hepatic and gut flora metabolism.
Elimination: The average elimination half-life of Ceftriaxone in healthy adults is 5.8-8.7 hours. In people with renal impairment, the average elimination half-life increases to 11.4-15.7 hours.
Pharmacokinetics of Ceftriaxone and Salbactum (2:1): The kinetics of ceftriaxone and sulbactum did not change in combination as compared to the alone treatment. In the clinical subjects' concentration of Ceftriaxone after 24 hrs was found to be higher than the minimum inhibitory concentration (MIC) of the most of the gram positive and gram negative bacteria indicating that one dose in a day is sufficient to treat the disease caused by these organisms
Indications:
Infections caused by Ceftriaxone sensitive microorganisms
Examples:
Sepsis
Meningitis
Abdominal infections (peritonitis, infections of gastrointestinal tract and bile duct)
Infections of bones, joints, soft tissues and wounds
Pri-operative infection prophylaxis
Infections of kidney and lower urinary tract
Infections of respiratory passages
Infections of genital organs including gonorrhea
Lyme disease from second stage
Dosage and Adminstration:
CIFIGOLD Injection may be administered by the I.V. or I.M. Route.
Dosage and mode of administration should be determined by the severity of the infection, susceptibility of the causative organism and the patient's condition. Under most circumstances a once-daily dose or, in the specified indications, a single dose will give satisfactory therapeutic results.
Adults: 
For adults the usual dose is 1 g given once a day (or in equally divided doses twice a day), depending upon the severity of the infection.
For severe infections, 2-4 g daily, normally as a single dose every 24 hours.
For infections caused by Staphylococcus aureus (methicillin-susceptible S. Aureus ), the recommended daily dose is 2-4 g, in order to achieve >90% target attainment. The total daily dose should not exceed 4 g.
If Chlamydia trachomatis is a suspected pathogen, appropriate anti-chlamydial coverage should be added, because ceftriaxone sodium has no activity against this organism.
For the treatment of uncomplicated gonococcal infections, a single I.M. dose of 250 mg is recommended.
Simultaneous administration of probenecid is not indicated.
Dose for Surgical prophylaxis:
Recommended dose for pre-operative use (surgical prophylaxis), is a single I.V. dose of 1 g administered half-hour to 2 hours before surgery. In colorectal surgery, a 2 g I.M. dose should be given (dosages greater than 1 g should be divided and injected at more than one site), or by slow I.V. infusion, in conjunction with a suitable agent against anaerobic bacteria.
Generally, ceftriaxone/salbactum should be continued for at least 2 days after the signs and symptoms of infection have disappeared. The usual duration of therapy is 4-14 days; in complicated infections, longer therapy may be required.
When treating Streptococci pyogenes, the therapy should be continued for at least 10 days.
Pediatric patients:
Neonates:
A daily dose of 20-50 mg/kg body weight, not to exceed 50 mg/kg.
Note: In the neonate, the I.V. dose should be given over 60 minutes to reduce the displacement of bilirubin from albumin, thereby reducing the potential risk of bilirubin encephalopathy.
Infants and Children Aged up to 12 Years:
Standard therapeutic dosage: 20-50 mg/kg body weight once daily.
For the treatment of skin and skin structure infections, the recommended total daily dose is 50 to 75 mg/kg given once a day (or in equally divided doses twice a day). The total daily dose should not exceed 2 g.
For the treatment of acute bacterial otitis media, a single I.M. dose of 50 mg/kg (not to exceed 1 g) is recommended.
For the treatment of serious miscellaneous infections other than meningitis, the recommended total daily dose is 50-75 mg/kg, given in divided doses every 12 hours. The total daily dose should not exceed 2 g.
In the treatment of meningitis, it is recommended that the initial therapeutic dose be 100 mg/kg (not to exceed 4 g). Thereafter, a total daily dose of 100 mg/kg/day (not to exceed 4 g daily) is recommended. The daily dose may be administered once a day (or in equally divided doses every 12 hours). The usual duration of therapy is 7-14 days.
Geriatric patients:
Elderly patients having normal renal function may be given the same dose as recommended for adults.
Patients with Renal Dysfunction:
There is no need to reduce the dosage of CIFIGOLD Injection dosage provided that liver function is intact. Only in cases of pre-terminal renal insufficiency (creatinine clearance <10 ml per minute) the daily dosage should be limited to 2 g or less.
In patients with hepatic damage there is no need for the dosage to be reduced provided renal function is normal.
In severe renal impairment accompanied by hepatic insufficiency, the plasma concentration of CIFIGOLD should be determined at regular intervals and dosage adjusted.
In patients undergoing dialysis, no additional supplementary dosing is required following the dialysis. Since the elimination rate in these patients may be reduced serum concentrations should be monitored to determine whether dosage adjustments are necessary.
Directions for use:
CIFIGOLD-INJ is to be administered by deep I.M. injection, or as a slow I.V. injection/infusion, after reconstitution of the solution with the appropriate diluents, e.g. Water for Injection-IP, Normal Saline Water, or Dextrose Solutions 
I.V. injection should be administered over at least 2-4 minutes.
I.V. infusion should be over a period of 30 minutes.
I.M injection:
After reconstitution, the solution should be administered by deep I.M. injection. Doses greater than 1 g should be divided and injected at more than one site. As with all I.M. preparations, CIFIGOLD should be injected well within the body of a relatively large muscle; aspiration helps to avoid unintentional injection into a blood vessel.
| | |
| --- | --- |
| Strength | 1,000 mg |
| Amount of diluent (ml) I.V. injection | 9.6 |
| Amount of diluent (ml) I.M. injection | 3.6 |
Contraindications:
CIFIGOLD is contraindicated in patients with a known allergy to Ceftriaxone or to the cephalosporin group of antibiotics.
If CIFIGOLD is to be administered to penicillin sensitive patients, caution should be exercised because cross hypersensitivity among beta-lactam antibiotics.
 CIFIGOLD-INJ is contraindicated in neonates if they require (or are expected to require) treatment with calcium-containing I.V. solutions, including continuous calcium-containing infusions such as parenteral nutrition, because of the risk of precipitation of ceftriaxone calcium.
Hyperbilirubinaemic neonates, especially prematures, should not be treated with Ceftriaxone.  It is also contraindicated in premature newborns up to a corrected age of 41 weeks (weeks of gestation + weeks of life).
Side effects:
Ceftriaxone is generally well tolerated.
Common side effects: Loose stools or diarrhoea, nausea, vomiting
Uncommon side effects: Headache and dizziness
Adverse reactions: Allergic reactions, drug fever, serum sickness-like reaction, renal dysfunction, toxic nephropathy, reversible hyperactivity, hypertonia, hepatic dysfunction, including cholestasis, aplastic anaemia, haemorrhage, and super-infection
Warnings and Precautions:
General:
Before therapy with Ceftriaxone/Sulbactam is instituted, a detailed inquiry should be made to determine whether the patient has had previous hypersensitivity reactions to cephalosporins, penicillins or other drugs
Do not reconstitute or mix Ceftriaxone with a calcium-containing product, such as Ringer's or Hartmann's solution or parenteral nutrition containing calcium, because particulate formation can result.
Aminoglycosides , amsacrine Vancomycin and fluconazole are physically incompatible with ceftriaxone/sulbactam in admixtures. When any of these drugs are to be administered concomitantly with ceftriaxone/sulbactam by intermittent I.V. infusion, it is recommended that they be given sequentially, with thorough flushing of the I.V. lines (with one of the compatible fluids) between the administrations.
 If a patient develops anaemia while on Ceftriaxone, the diagnosis of a cephalosporin-associated anaemia should be considered and Ceftriaxone should be stopped until the aetiology is determined.
Clostridium difficile associated diarrhea (CDAD) has been reported with use of nearly all antibacterial agents, including cefpodoxime proxetil and may cause mild diarrhea to fatal colitis. If CDAD is suspected or confirmed, ongoing antibiotic being used not directed against C. difficile may need to be discontinued. Appropriate fluid and electrolyte management, protein supplementation, antibiotic treatment of C. difficile, and surgical evaluation should be clinically indicated.
Drug Interactions:
The following drugs are known for having drug interactions with Ceftrixone
Chloramphenicol
Probencid
Diuretics
Contraceptives
Pregnancy:
Pregnancy category: B
CIFIGOLD-INJ should be used during pregnancy only if clearly needed
Lactation:
Low concentrations of Ceftriaxone are excreted in human milk. Hence, caution should be exercised when ceftriaxone/sulbactam is administered to a nursing mother.
Pediatric Use:
Please refer DOSAGE AND ADMINISTRATION section.
References:
fda.gov/
ncbi.nlm.nih.gov/pubmed/20686332
fda.gov/Drugs/DrugSafety/PostmarketDrugSafetyInformationforPatientsandProviders/DrugSafetyInformationforHeathcareProfessionals/ucm084263.htm
pubchem.ncbi.nlm.nih.gov/compound/ceftriaxone

Disclaimer:
Information provided above is for reference purpose only and has been compiled for use by healthcare practitioners. Please consult your physician to understand how the product affects you, its dosages, side-effects and further information.
Remember, keep this and all other medicines out of the reach of children, never share your medicines with others, and use this medication only for the indications prescribed by your physician.
Every effort has been made to ensure that the information provided by Pharma Synth Formulations Ltd. ('PSFL') is accurate, up-to-date, and complete, but no guarantee is made to that effect. PSFL does not endorse drugs, diagnose patients or recommend therapy and is an informational resource designed to assist licensed healthcare practitioners in caring for their patients and/or to serve consumers viewing this service as a supplement to, and not a substitute for, the expertise, skill, knowledge and judgment of healthcare practitioners. PSFL does not assume any responsibility for any aspect of healthcare administered with the aid of information provided. The information contained herein is not intended to cover all possible uses, directions, precautions, warnings, drug interactions, allergic reactions, or adverse effects. If you have questions about the drugs you are taking, check with your doctor, nurse or pharmacist.