Speedex-Balm
Description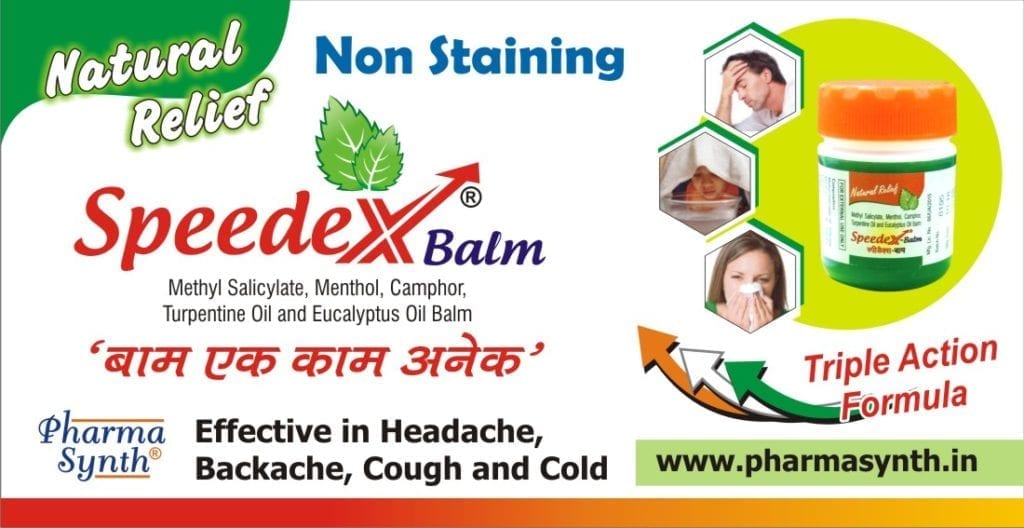 Composition:
Methyl Salicylate : 10%w/w
Menthol: 40%w/w
Camphor: 2%w/w
Turpentine oil: 5%w/w
Eucalyptus oil: 2%w/w

Dosage form:
Topical balm

Description: 
Speedex-balm is an optimally balanced non-greasing, non-staining blend of potent ingredients for providing relief from headache, cough, back ache, stuffy and runny nose symptoms associated with cold and flu. Speedex-balm is not likely to cause drowsiness and other side effects as usually seen with cough and cold preparations. Menthol, camphor, turpentine oil and eucalyptus oil present in Speedex-balm relieves nasal congestion associated with seasonal allergies, cold and other upper respiratory tract infections. Methyl salicylate acts as both NSAID and counter irritant that aids in relieving back ache and headache.

Pharmacological action:
Methyl salicylate is also a NSAID, commonly known as wintergreen oil. It is used in external analgesic drug products for its counterirritant properties. Counterirritancy is the mechanism of irritation of sensory nerve endings that offsets firing of pain nerve endings in muscles and joints, thereby masking the underlying discomfort due to pain. When applied topically, methyl salicylate induces skin redness and irritation leading to analgesic effect. After absorption through the skin it is converted to salicylic acid.
Menthol is commonly used on the skin, also as a counterirritant in external analgesic drug products. It has a local distracting and mild analgesic action, besides inducing a cooling sensation. When applied topically it dilates blood vessels and stimulates nerves that perceive cold and suppresses firing of pain sensing nerves. Presumably, menthol may also act as an antitussive by influencing the activity of sensory nerves in the upper airway which initiate cough.
Turpentine oil is obtained by steam distillation of pine resin. The volatile terpene compounds present in the turpentine oil namely α-pinene, β-pinene, camphene; 3-carene and dipentene are known to have decongestant and mild expectorant properties.
Cineole, the major constituent of Eucalyptus oil in addition to other terpenes, symptomatically treats excessive discharge or build-up of mucus in the nose or throat, associated with inflammation of the mucous membrane. Though it has no effect on nasal resistance to airflow, it has sensitizing effect on nasal cold receptors.
Camphor, the oil extract acts as skin stimulant and counter irritant when applied topically.

Indications:
Speedex-balm is indicated as adjuvant therapy to provide symptomatic relief from nasal congestion (stuffy nose), body and head ache due to seasonal allergies, hay fever, viral fever, cold, flu and upper respiratory tract allergies.

Dosage and Administration:
Gently rub the balm on nose, forehead and chest 3-4 times in a day.

Contraindications:
Speedex-balm should not be used if you are allergic to one or any of its ingredients.
Please inform your doctor or pharmacist if you have previously experienced such an allergy.
If you feel you have experienced an allergic reaction, stop using this medicine and inform your doctor or pharmacist immediately.

Side effects:
Speedex-balm is well tolerated with relatively no side effects.
Discontinue use if you observe any of the following:
• Irritation
• Anxiety
• Excitement
• Delirium
• Colic
• Nausea
• Vomiting
• Diarrhea
• Convulsions
• Apnea
• Contact dermatitis
• Allergic reactions

Warnings and Precautions:
General:
• When using this product avoid contact with eyes.
• The formulation provides decongestant effect that lasts for about 1 hour, however for long term relief the underlying cause is to be addressed.
• Frequent or prolonged use may cause nasal congestion to recur or worsen
• Keep away from children. If swallowed, get medical help or contact a Poison Control Center right away.
• Not be used for children below 6yrs of age. There are reported cases of apnea in children using menthol based formulations.
Drug interactions:
• Inform your doctor if you are using any other cough and cold preparations.
Pregnancy and Lactation:
• Found to be safe during pregnancy and lactation.

References:
Methy Salicylate:
https://pubchem.ncbi.nlm.nih.gov/compound/4133#section=Drug-and-Medication-Information
Menthol and Related Cooling Compounds
http://onlinelibrary.wiley.com/doi/10.1111/j.2042-7158.1994.tb03871.x/pdf
The Effects of Camphor, Eucalyptus and Menthol Vapour on Nasal Resistance to Airflow and Nasal Sensation
https://www.researchgate.net/publication/16581864_The_Effects_of_Camphor_Eucalyptus_and_Menthol_Vapour_on_Nasal_Resistance_to_Airflow_and_Nasal_Sensation
Eucalyptus oil for nasal congestion
https://books.google.co.in/books?id=qWP4aG-wXAQC&pg=PA100&dq=eucalyptus+oil+for+nasal+congestion&hl=en&sa=X&redir_esc=y#v=onepage&q=eucalyptus%20oil%20for%20nasal%20congestion&f=false
Turpentine oil as decongestant
https://books.google.co.in/books?id=_x8ICgAAQBAJ&pg=PA666&lpg=PA666&dq=turpentine+oil+as+decongestant&source=bl&ots=xnlWH-Y6rz&sig=s8tkcC0zXOJpCI8dnFcg-pJn128&hl=en&sa=X&ved=0ahUKEwj_mZa68ovWAhVEuI8KHcXVBmwQ6AEIODAD#v=onepage&q=turpentine%20oil%20as%20decongestant&f=false


Disclaimer:
Information provided above is for reference purpose only and has been compiled for use by healthcare practitioners. Please consult your physician to understand how the product affects you, its dosages, side-effects and further information.
Remember, keep this and all other medicines out of the reach of children, never share your medicines with others, and use this medication only for the indications prescribed by your physician.
Every effort has been made to ensure that the information provided by Pharma Synth Formulations Ltd. ('PSFL') is accurate, up-to-date, and complete, but no guarantee is made to that effect. PSFL does not endorse drugs, diagnose patients or recommend therapy and is an informational resource designed to assist licensed healthcare practitioners in caring for their patients and/or to serve consumers viewing this service as a supplement to, and not a substitute for, the expertise, skill, knowledge and judgment of healthcare practitioners. PSFL does not assume any responsibility for any aspect of healthcare administered with the aid of information provided. The information contained herein is not intended to cover all possible uses, directions, precautions, warnings, drug interactions, allergic reactions, or adverse effects. If you have questions about the drugs you are taking, check with your doctor, nurse or pharmacist.