SEDORIL DCP
.:: COMPOSITION ::.
Each 5 ml contains :
» Dextromethorphan Hbr IP 5 mg
» Chlorpheniramine Maleate IP 2 mg
» Phenylephrine HCL IP 5 mg
in a palatable base.
Description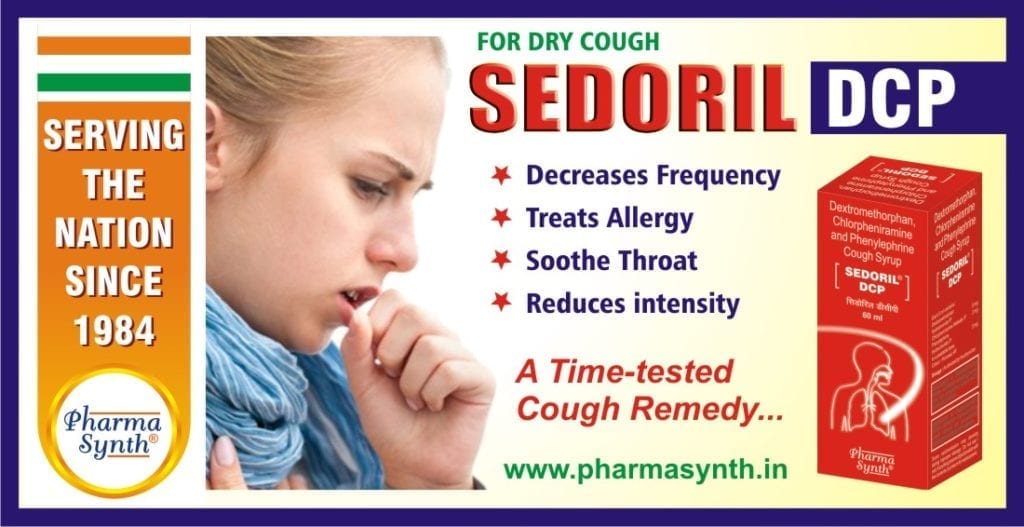 SEDORIL DCP
Composition:
Each 5 ml of Sedoril DCP contains:
Dextromethorphan Hbr IP                                                                         5 mg
Chlorpheniramine Maleate IP                                                                    2 mg
Phenylephrine HCL IP                                                                               5 mg
in a palatable base.

Dosage form:
Syrup

ATC classification:
Cough and cold preparations

Description: 
Sedoril-DCP syrup is a comprehensive formula containing an anti-tussive agent that suppresses cough, an anti-histaminic agent that treats allergy and a nasal decongestant that provides relief from congestion.  Dextromethorphan hydrobromide in Sedoril-DCP is the anti tussive agent. Chlorpheniramine maleate is the anti histamine that treats allergies and hence the cough and cold associated with seasonal allergies. Phenylephrine hydrochloride is the nasal decongestant which also provides relief from sinus congestion.

Pharmacological action:
Dextromethorphan hydrobromide is a non-opioid, antitussive drug. It suppresses cough by acting on the cough centre in the medulla oblongata, raising the threshold for the cough reflex. It has effectiveness equal to codeine with added benefit of neither causing addiction nor inducing drug tolerance. At therapeutic doses it doesn't depress respiration nor does it inhibit ciliary activity.
Chlorpheniramine maleate is a histamine antagonist that acts by selectively binding to histamine H1 receptors to block the actions of endogenous histamine. It antagonizes the action of histamine preventing the release of inflammatory mediators or inhibiting the actions of released mediators on their target cells. It also has mild anti cholinergic and sedative effects. Chlorpheniramine maleate exerts its anti histaminic action in the bronchi, capillaries, and some other smooth muscles, and is used to prevent or allay motion sickness, seasonal rhinitis, and allergic dermatitis and to induce somnolence.
Phenylephrine hydrochloride is an oral sympathomimetic amine with selective α1-adrenoceptor agonist action. The sympathomimetic effect of phenylephrine on blood vessels produces vasoconstriction which in turn relieves nasal congestion.  It has slightly stronger pressor effect on the venous capacitance vessels when compared to the arteriolar resistance vessels. It treats inflammation of the nasal passages, due to an infection or an allergy. Inflammation associated with allergic rhinitis and rhinosinusitis reduces the physical size of the nasal passages by inducing vasodilatation, increasing blood flow and increasing vascular permeability with inordinate mucus production. Hence vasoconstrictors are used to provide relief from congestion.

Pharmacokinetics of Sedoril-DCP:
Dextromethorphan hydrobromide:
A single oral dose of 10-20 mg dextromethorphan produces its cough suppressant action within 1 hour and lasts for at least 4 hours. It is rapidly metabolized with trace amounts of the parent compound in blood and urine. About one-half of the administered doses are excreted in the urine as conjugated metabolites.
Chlorpheniramine maleate:
Peak plasma concentration of Chlorpheniramine maleate reaches within 2 to 6 hours. Urinary excretion is the major route of elimination. The liver is assumed to be the major site of metabolic transformation and it undergoes enterohepatic recycling.
Phenylephrine hydrochloride:
Phenylephrine is readily absorbed after oral administration but undergoes extensive presystemic metabolism, much of which occurs in the enterocytes, making the systemic bioavailability only about 40%. Following oral administration, peak plasma concentrations are achieved in 1-2 hours. The mean plasma half-life is in the range 2-3 hours. It is extensively metabolized in the liver. Both phenylephrine and its metabolites are excreted in the urine.

Indications:
Sedoril-DCP is indicated for
Dry and irritating cough
Reduces the intensity and frequency of cough
Allergic cough
Post-operative cough, smokers cough and night-time cough.
Cough with allergic rhinitis and rhinosinusitis
Note: This medicine will not treat an infection. So underlying infection should be determined and treated.

Dosage and Administration:
Recommended dosage unless otherwise specified by Physician:
Adults and Children 12 years of age and older: 1 teaspoonful (5 mL) every 4 to 6 hours, not to exceed 6 teaspoonfuls in 24 hours.
Children 6 to under 12 years of age: 1/2 teaspoonful (2.5 mL) every 4 to 6 hours, not to exceed 3 teaspoonfuls in 24 hours.
Children 2 to under 6 years of age: 1/4 teaspoonful (1.25 mL) every 4 to 6 hours, not to exceed 1.5 teaspoonfuls in 24 hours.
Note:
Talk to your pediatrician regarding the dosage and use of this medicine in children. While this drug may be prescribed for selected conditions, precautions do apply. Not recommended for use in children under 2 years of age.
In mild cases or in particularly sensitive patients, less frequent or reduced doses may be appropriate and adequate.
Follow the directions on the label. Use the measuring cap if provided or else use a specially marked spoon or container to measure each dose. Ask your pharmacist if you do not have one. Household spoons are not accurate.
You can take it with or without food. If it upsets your stomach, take it with food.
Take your medicine at regular intervals.
Do not take it more often than directed.

Contraindications:
Sedoril-DCP is contraindicated in patients with hypersensitivity or idiosyncrasy to any of its ingredients.
Sympathomimetic amines (Phenylephrine) are contraindicated in patients with severe hypertension, severe coronary artery disease and patients on monoamine oxidase (MAO) inhibitor therapy.
Antihistamines (Chlorpheniramine maleate) are contraindicated in patients with narrow angle glaucoma, urinary retention, peptic ulcer and during an asthma attack.
Dextromethorphan should not be used in patients receiving a monoamine oxidase inhibitor (MAOI) or for 2 weeks after stopping the MAOI drug.

Side effects:
Stop using Sedoril-DCP and report to your doctor or health care professional as soon as possible if you experience of any of the following adverse reactions:
Allergic reactions like skin rash, itching or hives, swelling of the face, lips, or tongue
Breathing problems
Changes in vision
Cold, clammy skin
Dizziness
Increased heart rate
Irregular heart beat (arrhythmia)
High blood pressure
Hallucinations
Seizures
Tremors
Trouble passing urine or change in the amount of urine
Fatigue
Vomiting
Side effects that usually do not require medical attention (report to your doctor or health care professional if they continue or are bothersome):
Diarrhea, Headache, Loss of appetite, Nervous or restless, Stomach upset, nausea and trouble sleeping

Warnings and Precautions:
General:
As Sedoril-DCP contains dextromethorphan, it should not be administered to patients with chronic or persistent cough, such as occuring with asthma, or where cough is accompanied by excessive secretions, unless directed by a physician.
As Sedoril-DCP contains Chlorpheniramine, caution should be exercised while giving to patients with epilepsy, severe cardiovascular disorders, liver disorders, glaucoma, urinary retention, prostatic enlargement, pyloroduodenal obstruction, asthma, bronchitis, bronchiectasis, thyrotoxicosis and severe hypertension.
Special care should be taken when using chlorpheniramine maleate in children and the elderly as they are more prone to developing neurological anticholinergic effects.
In general sympathomimetic amines should be used judiciously and sparingly in patients with hypertension, diabetes, ischemic heart disease, hyperthyroidism, increased intraocular pressure or prostatic hypertrophy.
Drug Interactions:
Antihistamines may enhance the effects of alcohol, tricyclic antidepressants, barbiturates and other CNS depressants.
Dextromethorphan, Chlorpheniramine and Phenylephrine interact with MAO inhibitors. Hence, Sedoril-DCP is contraindicated with MAO inhibitors.
Sympathomimetic amines may reduce the antihypertensive effects of reserpine, veratrum alkaloids, methyldopa and mecamylamines.
Effects of sympathomimetics are increased with MAO inhibitors and beta-adrenergic blockers.
The cough-suppressant action of dextromethorphan and narcotic antitussives are additive.
Pregnancy and lactation:
It is not known whether these products can cause fetal harm when administered to a pregnant woman or affect reproduction capacity. Give to a pregnant woman only if clearly needed.
It is not known if these drugs are excreted into breast milk. There is risk for serious reactions in nursing infants, so a decision should be made whether to discontinue nursing or to discontinue the drug, taking into account the importance of the drug to the mother.

References:
https://pubchem.ncbi.nlm.nih.gov/compound/Dextromethorphan_hydrobromide#section=Top
https://pubchem.ncbi.nlm.nih.gov/compound/phenylephrine_hydrochloride#section=Top
https://pubchem.ncbi.nlm.nih.gov/compound/8231#section=Top
https://www.ncbi.nlm.nih.gov/pmc/articles/PMC2866558/

Disclaimer:
Information provided above is for reference purpose only and has been compiled for use by healthcare practitioners. Please consult your physician to understand how the product affects you, its dosages, side-effects and further information.
Remember, keep this and all other medicines out of the reach of children, never share your medicines with others, and use this medication only for the indications prescribed by your physician.
Every effort has been made to ensure that the information provided by Pharma Synth Formulations Ltd. ('PSFL') is accurate, up-to-date, and complete, but no guarantee is made to that effect. PSFL does not endorse drugs, diagnose patients or recommend therapy and is an informational resource designed to assist licensed healthcare practitioners in caring for their patients and/or to serve consumers viewing this service as a supplement to, and not a substitute for, the expertise, skill, knowledge and judgment of healthcare practitioners. PSFL does not assume any responsibility for any aspect of healthcare administered with the aid of information provided. The information contained herein is not intended to cover all possible uses, directions, precautions, warnings, drug interactions, allergic reactions, or adverse effects. If you have questions about the drugs you are taking, check with your doctor, nurse or pharmacist.