PharmaCyp
Description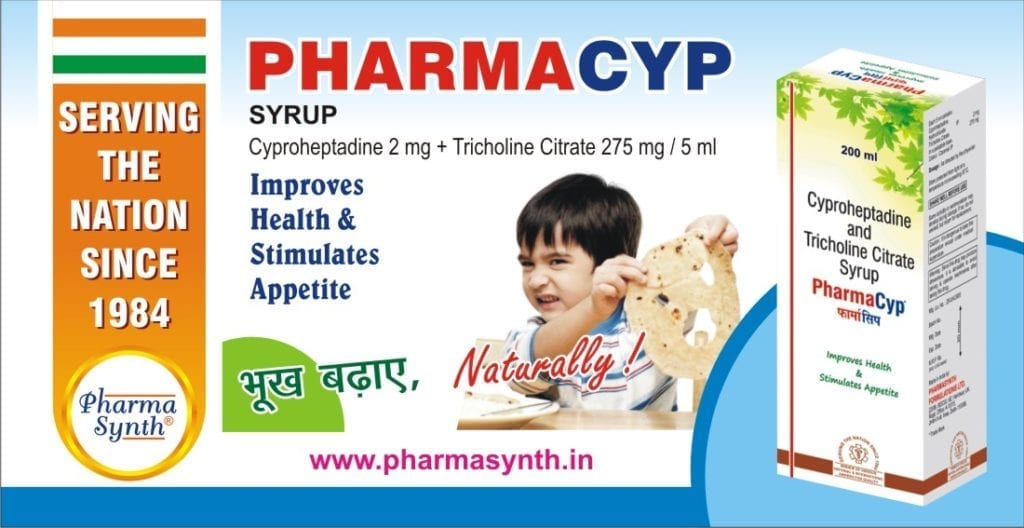 Pharma-Cyp
Composition:
Each 5 ml of PharmaCyp contains
Cyproheptadine Hydrochloride IP                                                                  2 mg
Tricholine Citrate                                                                                         275 mg
In a palatable base.

Dosage form:
Syrup

ATC classification:
Antihistamines

Description: 
Pharma-Cyp syrup is an appetite stimulant that incites craving for food and restores appetite in patients suffering from loss of appetite due to other medications or conditions. The active ingredients of Pharma-Cyp are Cyproheptadine Hydrochloride and Tricholine Citrate. Cyproheptadine is a histamine antagonist with anticholinergic activity. However, the serotonin antagonism activity of Cyproheptadine is responsible for stimulating appetite and growth. Tricholine Citrate contains three molecules of choline. Choline is an essential lipotropic nutrient that aids in the treatment of fatty infiltration and cirrhosis of liver. It increases bile flow and stimulates pancreatic enzymes.

Pharmacological action:
Cyproheptadine Hydrochloride unlike other antihistamines has antagonistic action at even serotonin receptors. This property makes it useful in conditions such as vascular headache and anorexia. It competes with serotonin and blocks its binding at receptor sites in smooth muscle of intestines and other locations. It is postulated that cyproheptadine's antagonism of serotonin on the appetite centre of the hypothalamus accounts for its ability to stimulate appetite. It also shows antiemetic effects that r regulate gastrointestinal motility and improves digestion by blocking central muscarinic receptors.
Choline is needed for neurotransmitter synthesis, cell-membrane signaling, and transport of lipids, methylation reactions and homocysteine metabolism. It modulates the gene expression in many of the pathways involved in liver function and dysfunction by modifying epigenetic marks on DNA and histones. It converts fat into phospholipids like, lecithin, which is essential to biomembrane structure and its function. Choline deficiency is linked to nonalcoholic fatty liver disease, atherosclerosis (via lipoprotein secretion), and possibly neurological disorders.

Indications:
PharmaCyp is indicated for treating
Loss of appetite
Intestinal malabsorption
Sluggish peristalsis
Indigestion
Anorexia
Nutritional edema
Allergy & pruritis.
Liver and digestive problems
It can be prescribed as an adjunct to anti-tubercular and antiretroviral therapies for weight gain.

Dosage:
Recommended dosage of Pharma-Cyp syrup unless otherwise directed by your Physician:
In adults: 2 teaspoonful
In children 7-14 years age: 1 teaspoonful

Contraindications:
Pharma-Cyp syrup is contraindicated in patients with known hypersensitivity to any of the ingredients present in the formulation.
It is contraindicated in newborn or premature infants
It is contraindicated in the following conditions:
Angle-closure glaucoma,
Symptomatic prostatic hypertrophy,
Stenosing peptic ulcer,
Bladder neck obstruction
Pyloroduodenal obstruction.

Side effects:
Adverse effects associated with Pharma-CYP can be attributed to Cyproheptadine.
Common side effects: Drowsiness, dry mouth, confusion and ataxia.
CNS side effects: sedation (often transient), dizziness, disturbed coordination, confusion, restlessness, vertigo.
Cardiovascular effects: hypotension, palpitation, tachycardia
Respiratory effects: dryness of nose and throat and thickening of bronchial secretions.
Genitourinary effects: urinary retention
Other effects: blurred vision, diplopia, vertigo, tinnitus, rash, urticaria, Fatigue, chills, headache

Warnings and Precautions:
General:
It is dangerous to take Pharma-CYP except under medical supervision.
Cyproheptadine has an atropine-like action therefore, should be used with caution in patients with history of cardiovascular disease, hypertension, bronchial asthma, and increased intraocular pressure and hyperthyroidism.
Antihistamines may diminish mental alertness in adults; conversely, particularly, in the young child, they may occasionally produce excitation. Patients should be warned about engaging in activities requiring mental alertness and motor coordination.
May cause drowsiness, do not drive or operate machinery, if affected.

Drug Interactions:
MAO inhibitors prolong and intensify the anticholinergic effects of Cyprohepatdine.
PharmaCYP may have additive effects with alcohol and other CNS depressants like, hypnotics, sedatives, tranquilizers and antianxiety drugs.

Pregnancy and lactation:
Pregnancy Category B
Cyproheptadine HCl should be used during pregnancy only if clearly needed.

References:
https://pubchem.ncbi.nlm.nih.gov/compound/cyproheptadine#section=Top
https://pubchem.ncbi.nlm.nih.gov/compound/6209

Disclaimer:
Information provided above is for reference purpose only and has been compiled for use by healthcare practitioners. Please consult your physician to understand how the product affects you, its dosages, side-effects and further information.
Remember, keep this and all other medicines out of the reach of children, never share your medicines with others, and use this medication only for the indications prescribed by your physician.
Every effort has been made to ensure that the information provided by Pharma Synth Formulations Ltd. ('PSFL') is accurate, up-to-date, and complete, but no guarantee is made to that effect. PSFL does not endorse drugs, diagnose patients or recommend therapy and is an informational resource designed to assist licensed healthcare practitioners in caring for their patients and/or to serve consumers viewing this service as a supplement to, and not a substitute for, the expertise, skill, knowledge and judgment of healthcare practitioners. PSFL does not assume any responsibility for any aspect of healthcare administered with the aid of information provided. The information contained herein is not intended to cover all possible uses, directions, precautions, warnings, drug interactions, allergic reactions, or adverse effects. If you have questions about the drugs you are taking, check with your doctor, nurse or pharmacist.