PD-SR
Description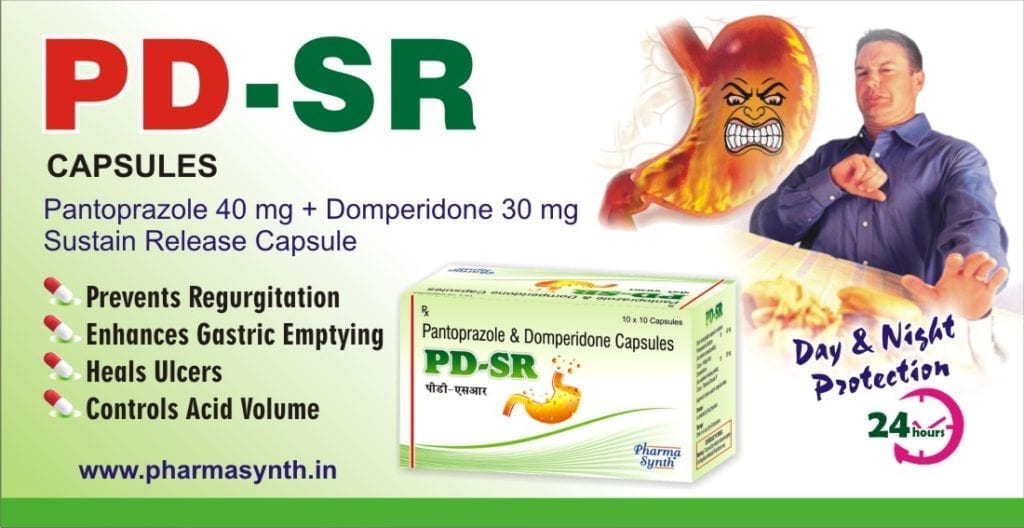 PD-SR
Pantoprazole and Domperidone Sustained Release Capsules
 
Composition:
Each PD-SR capsule contains:
Pantoprazole Sodium IP                                                                  40 mg
Domperidone Maleate IP equivalent to
Domperidone                                                                                   30 mg

Dosage form:
Tablets

ATC classification:
Pantoprazole belongs to the class of Proton pump inhibitors
Domperidone belongs to the class of Propulsives

Description: 
Pantoprazole and Domperidone Sustained Release Capsules are a combination formulation for patients having acidity along with gastric acid reflux. PD-SR offers sustained symptomatic relief over 24hours for patients troubled with hyperacidity and dysmotility disorders. Pantoprazole provides rapid relief from acidity whereas Domperidone works towards preventing nausea, vomiting and acid reflux associated with heartburn.

Pharmacological action:
Mechanism of action of Pantoprazole:
Pantoprazole is a proton pump inhibitor, which accumulates in the acidic compartment of parietal cells and is converted to the active form. The active form inhibits the final step in the secretion of hydrochloric acid in the stomach by specific blockade of the H+/K+ATPase enzyme, the proton pumps of the parietal cells. The inhibition of proton pumps is dose-dependent and affects both basal and stimulated acid secretion.
 Pharmacokinetics of Pantoprazole:
It is rapidly absorbed after oral administration and maximal plasma concentration is achieved even after one single 40 mg oral dose with onset of action 2-4 hours. Oral bioavailability is 77%. Food has no influence on the bioavailability. For pantoprazole renal elimination is the major route of excretion (about 80%). Rest undergoes low first pass hepatic excretion.
Mechanism of action of Domperidone:
Domperidone exerts gastroprokinetic effect due to its antagonist action on dopamine receptors D2 (D2R). Inhibition of these receptors increases motility of GI tract that fastens gastric emptying and prevents nausea and vomiting. Antagonist effect at D2 receptors increases the pressure at lower esophageal sphincter so that reflux of stomach contents into esophagus is prevented.  It also has strong affinities for the D2 and D3 dopamine receptors, which are found in the chemoreceptor trigger zone, located just outside the blood brain barrier, which regulates nausea and vomiting.
Pharmacokinetics of Domperidone:
Peak plasma levels of domperidone occur within 30 minutes after oral administration on empty stomach. When taken after a meal, domperidone's bioavailability is enhanced. However, patients with gastrointestinal complaints should take domperidone 15-30 minutes before a meal. Plasma half-life after a single oral dose is 7-9 hours in healthy subjects. Urinary and faecal excretions of domperidone amount to 31% and 66% of the oral dose, respectively.

Indications:
PD-SR is indicated for the following conditions:
GERD – gastroesophageal reflux disease
Erosive esophagitis
Non ulcer dyspepsia
Gastric and duodenal ulcers
The relief from following symptoms:
nausea and vomiting
epigastric sense of fullness
upper abdominal discomfort and
regurgitation of gastric contents
Recommended to be prescribed when on NSAID therapies and other drug therapies where side effects are gastritis and heartburn.

Dosage and Administration:
The recommended dose of PD-SR capsules is one capsule daily before breakfast.

Contraindications:
PD-SR capsules are contraindicated in the following:
In patients with a known hypersensitivity to pantoprazole or domperidone or any other inactive ingredients of the capsules.
Prolactin-releasing pituitary tumour (prolactinoma).
In conditions where stimulation of the gastric motility could be harmful: gastrointestinal haemorrhage, mechanical obstruction or perforation.
Hepatic and/or renal impairment.

Side effects:
Common side effects are: Dry mouth, thirst
Uncommon side effects are:
Diarrhoea, skin rash, dizziness, pruritus, galactorrhea, gynecomastia.
Advice the patients to stop taking the medication and report to their physician if they observe any uncommon side effects.

Warnings and Precautions:
Pantoprazole
Concurrent Gastric Malignancy:
Symptomatic relief from gastritis due to pantoprazole therapy does not preclude the presence of gastric malignancy.
Cyanocobalamin (Vitamin B12) Deficiency:
Achlorhydria/hypochlorhydria due to long term treatment with acid suppressing medications may lead to mal absorption of VitaminB12.
Bone Fracture:
Patients on high dose/multiple dose/Long term PPI (proton pump inhibitor) therapy have been reported to have an increased risk for osteoporosis-related fractures of the hip, wrist or spine. Therefore patients who have or are at risk of osteoporosis should be given PPI treatments following proper guidelines.
Hypomagnesaemia:
There have been rare reports of hypomagnesaemia in patients treated with PPIs for at least 3 months. It is manifested with tetany, arrhythmias and seizures mostly after a year of therapy.
Magnesium levels are to be monitored in patients who are on concomitant treatment with digoxin or drugs that may cause hypomagnesaemia (e.g., diuretics).
Long-term Treatment:
In long-term treatment, especially when exceeding a treatment period of 1 year, patients should be regularly monitored.
Gastrointestinal Infections Caused by Bacteria:
Treatment with proton pump inhibitors may lead to a slightly increased risk of gastrointestinal infections caused by bacteria such as Salmonella and Campylobacter.
Domperidone
Notify the patients to consult their physicians if the post-prandial symptoms persist for more than 2 weeks even after being on therapy. Also when nausea and vomiting persists for more than 48hours.
Domperidone is not recommended for the treatment of motion sickness.
Domperidone may be associated with an increased risk of serious ventricular arrhythmias or sudden cardiac death. It is not recommended for use in patients with underlying cardiac disease without medical supervision
Cardiac risk may be higher in patients older than 60 years and at daily doses of more than 30 mg.
It should be used at the lowest effective dose in adults and children
In patients who have existing prolongation of cardiac conduction intervals, particularly the QTc, and in patients with significant electrolyte disturbances or underlying cardiac diseases such as congestive heart failure, caution should be exercised while using domperidone and/or co-administration with oral ketoconazole, erythromycin or other potent CYP3A4 inhibitors that prolong the QTc intervals.

Drug Interactions:
Pantoprazole:
Concomitant use of antiretrovirals (eg., atazanavir or nelfinavir) with PPIs is not recommended
Patients on concomitant treatment with PPIs and warfarin should be monitored for increase in INR and prothrombin time.
Domperidone:
Concomitant use of drugs that significantly inhibit CYP3A4 enzyme may result in increased plasma levels of domperidone
Anti cholinergics, antimuscarinic agents antagonize the activity of domperidone.

Pregnancy:
PD-SR should be used in pregnancy if its use is justified by the anticipated therapeutic benefit.
Lactation:
Pantoprazole and Domperidone are excreted into the breast milk. PD-SR should not be prescribed for lactating mothers. A decision should be made whether to discontinue nursing or to discontinue the drug, taking into account the benefit of the drug to the mother.

References:
https://pubchem.ncbi.nlm.nih.gov/compound/pantoprazole
https://pubchem.ncbi.nlm.nih.gov/compound/domperidone

Disclaimer:
Information provided above is for reference purpose only and has been compiled for use by healthcare practitioners. Please consult your physician to understand how the product affects you, its dosages, side-effects and further information.
Remember, keep this and all other medicines out of the reach of children, never share your medicines with others, and use this medication only for the indications prescribed by your physician.
Every effort has been made to ensure that the information provided by Pharma Synth Formulations Ltd. ('PSFL') is accurate, up-to-date, and complete, but no guarantee is made to that effect. PSFL does not endorse drugs, diagnose patients or recommend therapy and is an informational resource designed to assist licensed healthcare practitioners in caring for their patients and/or to serve consumers viewing this service as a supplement to, and not a substitute for, the expertise, skill, knowledge and judgment of healthcare practitioners. PSFL does not assume any responsibility for any aspect of healthcare administered with the aid of information provided. The information contained herein is not intended to cover all possible uses, directions, precautions, warnings, drug interactions, allergic reactions, or adverse effects. If you have questions about the drugs you are taking, check with your doctor, nurse or pharmacist.