Otoclean
Description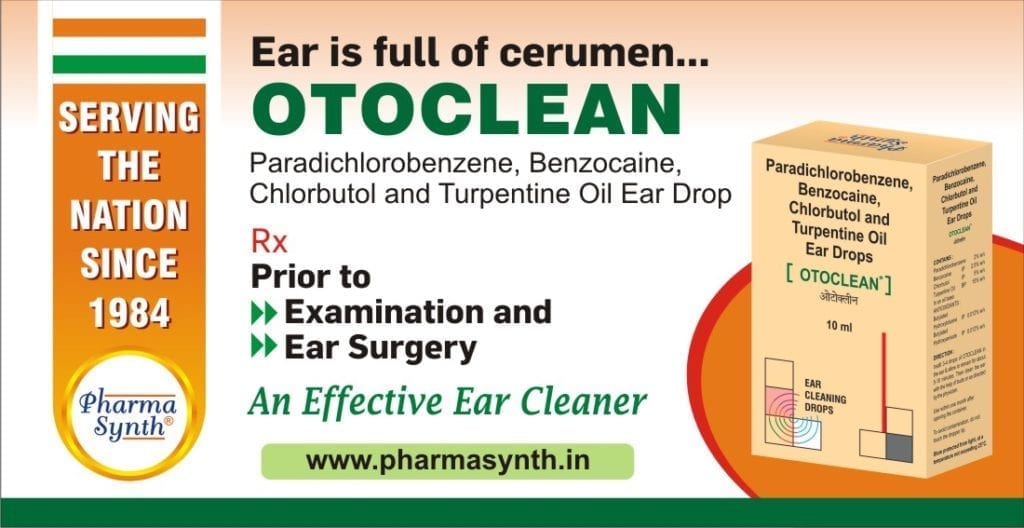 OTOCLEAN
Composition:
Paradichlorobenzene                                        2.0%w/v
Benzocaine                                                       2.0%w/v
Chlorbutol                                                        5.0%w/v
Turpentine Oil                                                  15%w/v

Dosage form:
Ear drops

ATC classification:
Cerumenolytics

Description: 
Otoclean is a formula devised for treating impacted ear wax, the most common reason for reduced hearing, discomfort, and sometimes pain and dizziness. Formula contains cerumenolytics which not only softens and disperse the cerumen but also reduce the need for, or facilitate syringing in the ears.

Pharmacological action:
Paradichlorobenzene is a chlorinated aromatic hydrocarbon that is used in ear preparations as ear wax softener and helps in the removal of wax. Benzocaine is a local anesthetic that numbs the area where it is applied topically so as to provide a quick and effective pain relief. In otoclean ear drops it serves to numb the ear pain associated with the impacted ear wax. Chlorbutol and turpentine oil in Otoclean work as counterirritants providing analgesic relief.
Otoclean relieves ear ache, improves aural hygiene and facilitates hearing. It disperses the excess impacted cerumen by emulsifying it and facilitates easy removal of wax before ear examination. It also exerts antibacterial and anti-fungal actions.

Indications:
Otoclean is indicated to relieve pain and itching from certain ear conditions such as middle ear inflammation with congestion and/or fluid build-up, swimmer's ear and outer ear inflammation.
It is indicated for treating impacted ear wax which causes stuffed up sensation, dulled hearing and associated ear pain.
Used as prophylaxis to reduce the need for syringing/ facilitate syringing.

Dosage:
As directed by physician.

Directions for use:
Lay the patient on side with the affected ear up.
Instill 5-10 drops of Otoclean into the ear canal.
Insert cotton plug into the meatus and allow it to remain for about 15-30 minutes.
Clean the ear canal of the softened cerumen using a cotton swab.
Flush the ear canal gently with luke warm water using a soft rubber syringe avoiding excess pressure.
Instill Otoclean ear drops once again into the ear canal insert a cotton plug. This will prevent any fungal/bacterial growth in the ear canal.
Continue the above procedure for one week. If the other canal is also affected, treat it simultaneously.
Note: To be used only on the advice of a Registered Medical Practitioner.

Contraindications:
Otoclean is contraindicated in patients with known hypersensitivity to any of the ingredients present in it.

Side effects:
Otoclean is well tolerated. A very serious allergic reaction to this drug is rare. However, seek immediate medical attention if you notice any of the following symptoms of a serious allergic reaction: rash, itching/swelling (especially of the face /tongue/throat), severe dizziness and troubled breathing.

Warnings and Precautions:
Before using this medication, inform your doctor or pharmacist about your medical history, especially of: hearing problems (including deafness, decreased hearing), intestinal problems (including blockage, swelling, and ulcers), kidney problems, myasthenia gravis, Parkinson's disease.
Drug Interactions:
Tell your doctor or pharmacist if you are using other ototopical medications
Pregnancy and lactation:
Follow your physician's advice for using Otoclean during pregnancy and lactation.

References:
Non prescription medicines by Alan Nathan , 4th Edition

Disclaimer:
Information provided above is for reference purpose only and has been compiled for use by healthcare practitioners. Please consult your physician to understand how the product affects you, its dosages, side-effects and further information.
Remember, keep this and all other medicines out of the reach of children, never share your medicines with others, and use this medication only for the indications prescribed by your physician.
Every effort has been made to ensure that the information provided by Pharma Synth Formulations Ltd. ('PSFL') is accurate, up-to-date, and complete, but no guarantee is made to that effect. PSFL does not endorse drugs, diagnose patients or recommend therapy and is an informational resource designed to assist licensed healthcare practitioners in caring for their patients and/or to serve consumers viewing this service as a supplement to, and not a substitute for, the expertise, skill, knowledge and judgment of healthcare practitioners. PSFL does not assume any responsibility for any aspect of healthcare administered with the aid of information provided. The information contained herein is not intended to cover all possible uses, directions, precautions, warnings, drug interactions, allergic reactions, or adverse effects. If you have questions about the drugs you are taking, check with your doctor, nurse or pharmacist.