MYCOTIC+
.:: COMPOSITION ::.
» Beclomethasone
Dipropionate IP 0.025% w/v
» Chloramphenicol IP 5% w/v
» Clotrimazole IP 1% w/v
» Lignocaine Hydrochloride IP 2% w/v
in a Propylene Glycol & Glycerin base.
Description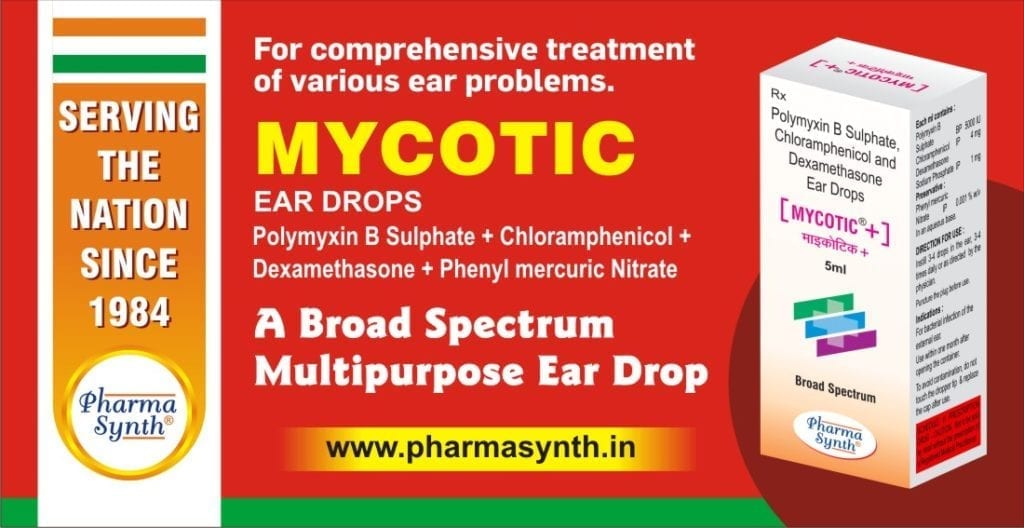 A broad spectrum multipurpose Ear drops.
MYCOTIC+
 
Each ml contains :
Polymyxin B Sulphate     BP         5000 IU
Chloramphenicol             IP           4 mg
Dexamethasone
Sodium Phosphate          IP           1 mg
Preservative :
Phenyl mercuric
Nitrate                             IP           0.001 % w/v
In an aqueous base

Dosage form:
Ear drops

ATC classification:
Antiinfective agents

Description: 
Mycotic ear drops provide an antibacterial and antifungal action with an anti inflammatory effect to prevent or treat ear infections. The added anesthetic component present numbs pain and stinging in the ear. Mycotic ear drops have been formulated to maintain the natural environment of the external ear canal.

Pharmacological action:
Beclomethasone dipropionate is a corticosteroid with anti-inflammatory,  antipruritic and vasoconstrictive properties. It is a prodrug of the free form of beclamethasone which gets rapidly activated by hydrolysis when absorbed and induces production of lipocortins by binding to nuclear receptors. Lipocortins inhibit phospholipase A2, the enzyme involved in the release of arachidonic acid from cell membranes. Arachidonic acid is the precursor of potent mediators of inflammation such as prostaglandins and leukotrienes. Thereby Beclomethasone acts by inhibiting the biosynthesis of precursor of potent inflammatory mediators.
Chloramphenicol is a broad-spectrum antibiotic. It exerts bacteriostatic effect by binding to the bacterial ribosome. This reversible binding to ribosomes interferes with peptidyl transferase activity, thereby prevents transfer of amino acids to the growing peptide chains and blocks peptide bond formation. As a result bacterial protein synthesis is inhibited, which in turn stops bacterial proliferation.
Clotrimazole is the most widely used topical azole with broad spectrum antifungal activity exerted by inhibiting ergosterol synthesis. Cell membranes of fungi and protozoa are made of ergosterol, inhibition of its synthesis leads to impairment of cytosplasmic membrane. Clotrimazole is known to have activity against fungi responsible for superficial mycotic infections affecting the outer or middle ear including Candida, Microsporum, Trichophyton. In addition to its antifungal action, it also acts on gram-positive bacteria (Streptococci /Staphylococci / Gardnerella vaginalis), and gram-negative bacteria, therefore it has usefulness in treating mixed infections. Depending on the concentration of clotrimazole at the site of action, it exhibits fungi static and fungicidal activity.
Lignocaine is a local anesthetic which acts by blocking the voltage gated sodium channels in the cell membranes of neurons. It hinders the transmission of signals between neurons by stopping the depolarization of the post synaptic neurons. It numbs the area where it is applied topically so as to provide a quick and effective pain relief.
Propylene glycol used as base in ear drops is an inert, non-irritant and viscous vehicle. It softens the cerumen and prolongs contact of the active ingredients with the surface of the ear canal.
Glycerin in Mycotic Ear Drops acts as a carrier for the other ingredients. It soothes and moisturizes the skin. Its water-retaining and emollient properties softens the cerumen.

Indications:
Mycotic Ear Drops is recommended for the treatment of superficial bacterial and fungal infections of the external auditory canal and middle ear, caused by organisms susceptible to the action of Chloramphenicol and Clotrimazole.

Dosage:
The dose of this medicine will be different for different patients. Follow the dosage prescribed by your physician. The following information includes only the average doses of this medicine. If your dose is different, do not change it unless your doctor tells you to do so.
For infections of the ear canal:
Adults and children—Use 2 or 3 drops in the affected ear two to three times a day.

Directions for use:
To apply the ear drops, tilt head to one side so that the ear is facing up.
In case of adults and children older than 3 years gently pull the ear lobe backward and upward.
For children younger than 3 years, gently pull the ear lobe backward and down
Apply 2-3 drops of Mycotic Ear Drops into the ear.
To allow the ear drops penetrate lower into the ear canal keep head tilted for about 5 minutes.
Gently pat excess material dripping out of the ear using a clean cotton ball.
If the ear canal is swollen consider inserting a wick to allow medication to travel along the length of the ear canal. The wick should be saturated with the ear drops prior to using it. The wick should be moistened for the first 24 hours by occasionally adding a few drops on the wick. Remove the wick after the first 24 hours and continue to instill 5 drops for Adults and 3 drops for Children, of Mycotic Ear Drops 3 or 4 times daily thereafter. To prevent infection of the other ear during treatment, Mycotic Ear Drops may be used in the unaffected ear 3 times daily.

Contraindications:
Mycotic ear drops are contraindicated in patients with known hypersensitivity to any of the ingredients present in it.
It is also contraindicated in viral infections of the ear.
Note: Gray syndrome may be especially likely to occur in children, who are usually more sensitive than adults to the effects of chloramphenicol. Report any of these effects to your health care professional: blue tone to the skin, changes in blood pressure or heart rate, eating problems, irregular breathing, passage of loose green stools, or stomach bloating with or without vomiting. Your health care professional should monitor blood levels of chloramphenicol if possible.

Side effects:
Stop the medication and check with your doctor as soon as possible if any of the following side effects occur:
Itching, burning, irritation, dryness, earache, headache, vertigo, dizziness, redness, folliculitis, hypertrichosis, acneform eruptions, hypopigmentation and or other sign of irritation not present before use of this medicine.

Warnings and Precautions:
General warning:
This preparation is not for ophthalmic use.
If otorrhea (Ear discharge/drainage) persists after a full course of therapy, or if two or more episodes of otorrhea occur within six months, further evaluation is recommended to exclude an underlying condition such as cholesteatoma, foreign body, or a tumor.
Although systemic side effects are not common with ear drops, their possible occurrence must be kept in mind.
As with other anti-infective preparations, prolonged use may result in overgrowth of nonsusceptible organisms.
Drug Interactions:
Inform your physician if you are using any of the following medications:
Ceftazidime, Chlorpropamide, Cyclosporine, Dicumarol, Fosphenytoin, Phenytoin, Rifampin, Rifapentine, Tacrolimus, Tetanus Toxoid, Tolbutamide.
Pregnancy and lactation:
Safety during pregnancy or lactation has not been established.
Pediatric Use:
Safety and efficacy in pediatric patients below 6 months of age have not been established.

References:
https://www.ncbi.nlm.nih.gov/pubmedhealth/PMHT0009556/?report=details
Compound summary for Beclomethasone dipropionate
Compound summary for Lidocaine
Compound Summary for Chloramphenicol
Compound Summary for Clotrimazole.

Disclaimer:
Information provided above is for reference purpose only and has been compiled for use by healthcare practitioners. Please consult your physician to understand how the product affects you, its dosages, side-effects and further information.
Remember, keep this and all other medicines out of the reach of children, never share your medicines with others, and use this medication only for the indications prescribed by your physician.
Every effort has been made to ensure that the information provided by Pharma Synth Formulations Ltd. ('PSFL') is accurate, up-to-date, and complete, but no guarantee is made to that effect. PSFL does not endorse drugs, diagnose patients or recommend therapy and is an informational resource designed to assist licensed healthcare practitioners in caring for their patients and/or to serve consumers viewing this service as a supplement to, and not a substitute for, the expertise, skill, knowledge and judgment of healthcare practitioners. PSFL does not assume any responsibility for any aspect of healthcare administered with the aid of information provided. The information contained herein is not intended to cover all possible uses, directions, precautions, warnings, drug interactions, allergic reactions, or adverse effects. If you have questions about the drugs you are taking, check with your doctor, nurse or pharmacist.