Gynocream
.:: COMPOSITION ::.
» Chlorhexidine Gluconate Solution IP 0.3% w/w
» Cetrimide IP 0.6% w/w
in a cream base. Containing Propylene Glycol,
Aloe Vera Gel & Glycerin
Description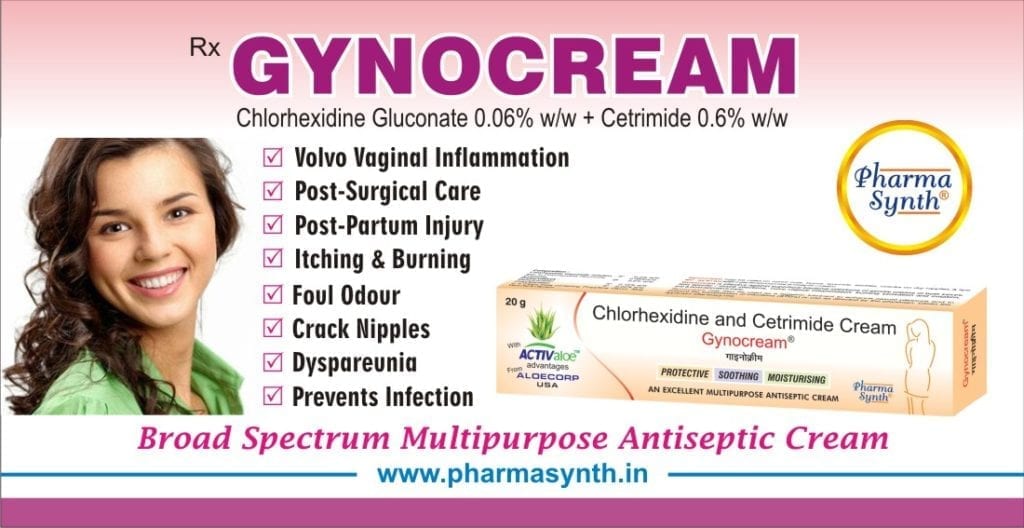 A complete gynaecological multipurpose antiseptic cream
GYNOCREAM
Composition:
Chlorhexidine Gluconate Solution IP                                        0.3% w/w
Cetrimide IP                                                                               0.6% w/w
Cream base:  Propylene Glycol, Aloe Vera Gel & Glycerin
Dosage form:
Cream
ATC classification:
Antiseptics
Description: 
GYNOCREAM is an antiseptic vaginal cream infused with soothing and moisturizing properties of aloe-vera and glycerin. It helps to alleviate perineal discomforts like itching, irritation, soreness and inflammation associated with vaginal discharge, menstrual cycle and postpartum injuries. It is designed to promote vaginal care and to prevent infections at perineal areas.

Pharmacological action:
Gynocream has two components that are antiseptics and two components that are moisturizers. Gynocream counteracts the excessive drying effect imparted by the antiseptics present in it, thereby presenting a balanced formulation for perineal skin care and hygiene.
Chlorhexidine gluconate, the antiseptic component of Gynocream acts as not only bactericidal and bacteriostatic but also has anti fungal properties. It acts by binding to bacterial cell wall so that it increases permeability of bacterial cell contents that causes leakage and subsequent cell death. When applied topically, Chlorhexidine binds to proteins present in skin and mucous membranes. This protein bound Chlorhexidine acts as slow release reservoir of Chlorhexidine, prolonging its action for a period of 48hrs. It has limited systemic absorption that renders its safety when used frequently.
Cetrimide, the other antiseptic component of Gynocream is often used in combination with Chlorhexidine. It is a quaternary ammonium bromine salt that acts as antiseptic with detergent properties. It is a wide spectrum anti infective against gram positive and gram negative bacteria, fungi and other microorganisms.
Aloe-vera, the moisturizing component of Gynocream is known as universal panacea. Mucopolysaccharides present in Aloe-vera binds moisture into the skin and prevent excessive dryness due to Cetrimide and Chlorhexidine present in Gynocream. Cohesive effects of aloe-vera soften the skin that may flake due to the antiseptic components of Gynocream. It has not only moisturizing but also antiseptic and healing properties that help in healing postpartum injuries.
Glycerin present in Gynocream acts as humectant that prevents moisture loss. It acts as natural emollient and has cooling effect on skin. It can improve chronic hand dermatitis and promote cell exfoliation. It helps reduce the time required for a wound to heal.
Propylene Glycol: It is a humectant (hydrating) and delivery ingredient used in over the counter products.
Gynocream can be used in conjunction with intra vaginal tablets to facilitate the insertion of tablets into the vagina. Given the composition of Gynocream is antiseptics and moisturizers the possibility of drug interactions is rare and therefore it can be used to provide the moisture for facilitating the dissolution of vaginal tablets.

Indications:
Gynocream is indicated for maintaining vaginal and intimate hygiene. It can be prescribed for prevention of infection and alleviation of itching, burning and foul odor associated with leucorrhea and vaginal discharges.
It is also indicated for inflammation of Volvo-Vaginal areas.
In women who are in postpartum period it can be indicated for post partum injuries and post surgery care.
Other indications include Dyspareunia and to heal cracked nipples.

Dosage:
Gynocream can be applied twice or thrice in a day.

Directions for use:
Apply to the affected perineal area.
You may experience a slight burning sensation because the area may be previously inflamed. If the burning sensation persists then wash off the cream and discontinue use.

Contraindications:
Gynocream is contraindicated in patients with known hypersensitivity to any of the ingredients of Gynocream.
It is contraindicated in patients with Atopic dermatitis.
Inform your Physician or Pharmacist of any known skin allergies before using this Gynocream.

Side effects:
Rare side effects observed with Chlorehexidine and cetrimide are allergic reactions such as contact dermatitis and rash.
Immediately discontinue use and inform your physician if you observe any redness, itching or rash with usage of Gynocream.

Warning and Precautions:
General Warnings:
For external use only
Do not use if you have abnormal or unusual discharge except under the supervision of your Physician.
When using this product wash your hands with water and soap after use.
Avoid contact with eyes
Stop using Gynocream if the intended condition worsens or symptoms persist even after using for 7days.
Stop using Gynocream if the condition occurs again after few days of using it.
Drug Interactions:
Inform your doctor or pharmacist if you are using any other anti infective creams at perineal areas.
Pregnancy and lactation:
Chlorhexidine and cetrimide solutions are often used as anti infective in maternal and neonatal care. However Physician should check for any allergic reactions before prescribing Gynocream for pregnant and lactating mothers.

References:
CHLORHEXIDINE DIGLUCONATE
Cetrimonium Bromide
ALOE VERA: A SHORT REVIEW
Glycerin: A Significant Humectant

Disclaimer:
Information provided above is for reference purpose only and has been compiled for use by healthcare practitioners. Please consult your physician to understand how the product affects you, its dosages, side-effects and further information.
Remember, keep this and all other medicines out of the reach of children, never share your medicines with others, and use this medication only for the indications prescribed by your physician.
Every effort has been made to ensure that the information provided by Pharma Synth Formulations Ltd. ('PSFL') is accurate, up-to-date, and complete, but no guarantee is made to that effect. PSFL does not endorse drugs, diagnose patients or recommend therapy and is an informational resource designed to assist licensed healthcare practitioners in caring for their patients and/or to serve consumers viewing this service as a supplement to, and not a substitute for, the expertise, skill, knowledge and judgment of healthcare practitioners. PSFL does not assume any responsibility for any aspect of healthcare administered with the aid of information provided. The information contained herein is not intended to cover all possible uses, directions, precautions, warnings, drug interactions, allergic reactions, or adverse effects. If you have questions about the drugs you are taking, check with your doctor, nurse or pharmacist.