CEFDEE-200DT
.:: COMPOSITION ::.
Each uncoated Dispersible Tablets contains :
» Cefpodoxime Proxetil IP eqv. to Cefpodoxime 200 mg
Description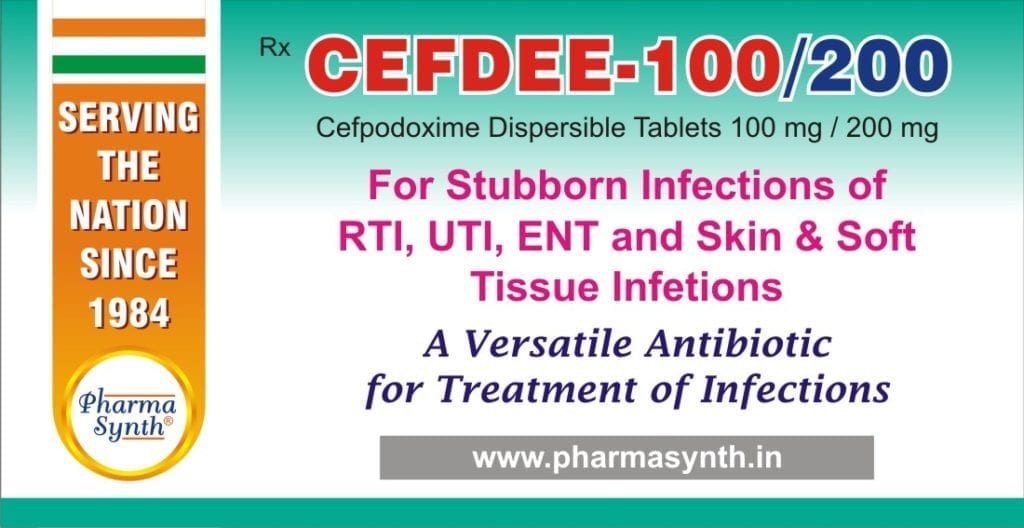 Cefpodoxime Dispersible Tablets

Composition:
Each CEFDEE- 200 dispersible uncoated tablet contains:
Cefpodoxime Proxetil IP equivalent to Cefpodoxime 200 mg in a flavored base.
Dosage form:
Dispersible tablets
ATC classification:
Antibacterials for systemic use
Description:  
CEFDEE is an orally administered, extended-spectrum, semi-synthetic antibiotic of the third generation cephalosporins. It exerts bactericidal action on beta lactamase producing microorganisms that are resistant to penicillins and cephalosporins. The drug has a broad spectrum of antibacterial activity encompassing both Gram-negative and Gram-positive bacteria.
Pharmacological action:
Mechanism of Action:
CEFDEE acts by inhibition of bacterial cell wall synthesis by binding to penicillin-binding proteins (PBPs) located in the bacterial cytoplasmic membrane. It is stable in the presence of some beta-lactamases, both penicillinases and cephalosporinases, of Gram-positive and Gram-negative bacteria. It is inactivated by certain extended-spectrum beta-lactamases.
Cefpodoxime is active against the following bacteria, both in vitro and in clinical infections
Gram-positive bacteria:
Staphylococcus aureus (methicillin-susceptible strains, including those pro- ducing penicillinases)
Staphylococcus saprophyticus Streptococcus pneumoniae (excluding penicillin-resistant isolates)
Streptococcus pyogenes
Gram-negative bacteria:
Escherichia coli
Klebsiella pneumonia
Proteus mirabilis
Haemophilus influenzae (including beta-lactamase producing isolates)
Moraxella catarrhalis
Neisseria gonorrhoeae (including penicillinase-producing isolates)
Pharmacokinetics:
Absorption and Excretion:
Cefpodoxime proxetil is a prodrug that is absorbed from the intestinal mucosa and de-esterified to its active metabolite, cefpodoxime. Following oral administration of 100 mg of cefpodoxime proxetil to fasting subjects, approximately 50% of the administered cefpodoxime dose was absorbed systemically. Absorption is enhanced by concomitant administration of food. Pretreatment with antacids or H2-receptor antagonists that raises gastric pH results in reduced absorption. Over the recommended dosing range (100 to 400 mg), after single and multiple-dose (12-hourly) administration of cefpodoxime proxetil, average peak plasma concentrations of cefpodoxime range from 1.0 to 4.5 mg/L and occur between 1.9 and 3.1 hours after administration. The half-life of cefpodoxime ranges from 1.9 to 2.8 hours.
There is minimal metabolism of cefpodoxime in vivo. Fraction not absorbed is degraded in the gastrointestinal tract and excreted in the feces. It is eliminated primarily by renal excretion. Over the recommended dosing range (100 to 400 mg), approximately 29 to 33% of the administered cefpodoxime dose is excreted unchanged in the urine in 12 hours time period. In patients with impaired renal function the disposition of cefpodoxime is altered.
Distribution: Low protein binding of cefpodoxime readily transfers it across the capillary lining into tissues.
Skin Blister:
Cefpodoxime levels in skin blister fluid at 12 hours for the 200 mg and 400 mg multiple-dose regimens, reaches 0.2 and 0.4 mcg/mL, respectively.
Following multiple-dose administration every 12 hours for 5 days of 200 mg or 400 mg cefpodoxime proxetil, the mean maximum cefpodoxime concentration in skin blister fluid reaches 1.6 and 2.8 mcg/mL, respectively.
Tonsil Tissue:  
Following a single, oral 100 mg dosing, the mean maximum cefpodoxime concentration in tonsil tissue averaged 0.24 mcg/g at 4 hours post-dosing and 0.09 mcg/g at 7 hours post-dosing. No detection of cefpodoxime in tonsillar tissue was reported 12 hours after dosing. Concentrations of cefpodoxime exceeded the MIC 90 of S. pyogenes for at least 7 hours after dosing of 100 mg of cefpodoxime proxetil.
Lung Tissue:
Following a single, oral 200 mg dosing, the mean maximum cefpodoxime concentration in lung tissue averaged 0.63 mcg/g at 3 hours post dosing, 0.52 mcg/g at 6 hours post dosing, and 0.19 mcg/g at 12 hours post-dosing. Cefpodoxime penetrated into lung tissue and produced sustained drug concentrations for at least 12 hours after dosing at levels that exceeded the MIC 90 for S. pneumoniae and H. influenzae.
Indications: 
CEFDEE is indicated for the treatment of patients with mild to moderate infections caused by the below mentioned strains
Acute otitis media caused by
Streptococcus pneumoniae (excluding penicillinresistant strains)
Streptococcus pyogenes
Haemophilus influenzae (including beta-lactamase-producing strains)
Moraxella (Branhamella) catarrhalis (including beta-lactamase-producing strains)
Pharyngitis and/or tonsillitis caused by Streptococcus pyogenes
Community-acquired pneumonia caused by S. pneumoniae or H. Influenzae (including beta-lactamase-producing strains).
Acute bacterial exacerbation of chronic bronchitis caused by
S. pneumoniae,
H. influenzae (non-beta-lactamase-producing strains only)
M. catarrhalis
Acute, uncomplicated urethral and cervical gonorrhea caused by
Neisseria gonorrhoeae (including penicillinase-producing strains).
Acute, uncomplicated ano-rectal infections in women due to Neisseria gonorrhoeae (including penicillinase-producing strains)
Uncomplicated skin and skin structure infections caused by
Staphylococcus aureus (including penicillinase-producing strains)
Streptococcus pyogenes.
Abscesses should be surgically drained as clinically indicated
Acute maxillary sinusitis caused by
Haemophilus influenzae (including betalactamase-producing strains)
Streptococcus pneumoniae, and
Moraxella catarrhalis.
Uncomplicated urinary tract infections (cystitis) caused by Escherichia coli, Klebsiella pneumoniae, Proteus mirabilis, or Staphylococcus saprophyticus
Dosage and Adminstration:
The recommended dosages, durations of treatment and applicable patient population are as described below:
Adults and Adolescents (age 12 years and older)
| | | | |
| --- | --- | --- | --- |
| Type of Infection | Total Daily Dose |  Dose Frequency |    Duration |
| Pharyngitis and/or tonsillitis | 200mg | 100 mg Q 12 hours | 5 to 10 days |
| Acute community- acquired pneumonia | 400mg | 200 mg Q 12 hours | 14 days |
| Acute bacterial exacerbations of chronic bronchitis | 400mg | 200 mg Q 12 hours | 10 days |
| Uncomplicated gonorrhea (men and women) and rectal gonococcal infections (women) | 200mg | single dose | |
| Skin and skin structure | 800mg | 400 mg Q 12 hours | 7 to 14 days |
| Acute maxillary sinusitis | 400mg | 200 mg Q 12 hours | 10 days |
| Uncomplicated urinary tract infection | 200mg | 100 mg Q 12 hours | 7 days |
Geriatric patients:
CEFDEE is safe to be used in Geriatric patients. Dose adjustment in elderly patients with normal renal function is not necessary.
Patients with Renal Dysfunction 
In patients with moderate (30 to 49 mL/min creatinine clearance) or severe renal impairment (5 to 29 mL/min creatinine clearance), the half-life increased to 5.9 and 9.8 hours respectively.
Therefore for patients with severe renal impairment the dosing intervals should be increased Q 24hours. In patients maintained on hemodialysis, dose frequency should be 3times/week after hemodialysis.
Patients with Cirrhosis:
Directions for use:
Disperse the tablet in teaspoonful of boiled and cooled water immediately before administration.
Contraindications:
CEFDEE is contraindicated in patients with a known allergy to cefpodoxime or to the cephalosporin group of antibiotics.
If CEFDEE is to be administered to penicillin sensitive patients, caution should be exercised because cross hypersensitivity among beta-lactam antibiotics.
Side effects: 
Common side effects seen with CEFDEE: Diarrhea and nausea/vomiting
Uncommon side effects: dizziness, headache, syncope, rash, abdominal pain.
Inform your physician if you experience any side effects.
Warnings and Precautions:
General:
CEFDEE should be used only to treat or prevent infections that are proven or strongly suspected to be caused by bacteria to maintain efficacy and to prevent the development of drug resistant strains.
Clostridium difficile associated diarrhea (CDAD) has been reported with use of nearly all antibacterial agents, including cefpodoxime proxetil and may cause mild diarrhea to fatal colitis. If CDAD is suspected or confirmed, ongoing antibiotic being used not directed against C. difficile may need to be discontinued. Appropriate fluid and electrolyte management, protein supplementation, antibiotic treatment of C. difficile, and surgical evaluation should be clinically indicated.
Drug Interactions:
The following drugs are known for having drug interactions with cefpodoxime proxetil:
Antacids
Oral anticholinergics
Probencid
Nephrotoxic drugs
Pregnancy:
Pregnancy category: B
CEFDEE should be used during pregnancy only if clearly needed.
Lactation:
Cefpodoxime is excreted in human milk. There is risk for serious reactions in nursing infants, so a decision should be made whether to discontinue nursing or to discontinue the drug, taking into account the importance of the drug to the mother.
Pediatric Use:
Safety and efficacy in infants less than 2 months of age have not been established
Information to be shared with Patients:
Antibacterial drugs including CEFDEE should only be used to treat bacterial infections. They do not treat viral infections (e.g., the common cold). When CEFDEE is prescribed to treat a bacterial infection, patients should be told that although it is common to feel better early in the course of therapy, the medication should be taken exactly as directed. Skipping doses or not completing the full course of therapy may
(1) Decrease the effectiveness of the immediate treatment and
(2) Increase the likelihood that bacteria will develop resistance and will not be treatable by CEFDEE or other antibacterial drugs in the future.
Diarrhea is a common problem caused by antibiotics which usually ends when the antibiotic is discontinued. Sometimes after starting treatment with antibiotics, patients can develop watery and bloody stools (with or without stomach cramps and fever) even as late as two or more months after having taken the last dose of the antibiotic. If this occurs, patients should contact their physician immediately.
References:
fda.gov
pubchem.ncbi.nlm.nih.gov/compound/cefpodoxime_proxetil
ncbi.nlm.nih.gov/pubmed/1726203
ncbi.nlm.nih.gov/pubmed/2292528
ncbi.nlm.nih.gov/pubmed/2292530
ncbi.nlm.nih.gov/pubmed/2393268

Disclaimer:
Information provided above is for reference purpose only and has been compiled for use by healthcare practitioners. Please consult your physician to understand how the product affects you, its dosages, side-effects and further information.
Remember, keep this and all other medicines out of the reach of children, never share your medicines with others, and use this medication only for the indications prescribed by your physician.
Every effort has been made to ensure that the information provided by Pharma Synth Formulations Ltd. ('PSFL') is accurate, up-to-date, and complete, but no guarantee is made to that effect. PSFL does not endorse drugs, diagnose patients or recommend therapy and is an informational resource designed to assist licensed healthcare practitioners in caring for their patients and/or to serve consumers viewing this service as a supplement to, and not a substitute for, the expertise, skill, knowledge and judgment of healthcare practitioners. PSFL does not assume any responsibility for any aspect of healthcare administered with the aid of information provided. The information contained herein is not intended to cover all possible uses, directions, precautions, warnings, drug interactions, allergic reactions, or adverse effects. If you have questions about the drugs you are taking, check with your doctor, nurse or pharmacist.